Rainbow Mauritius Specialist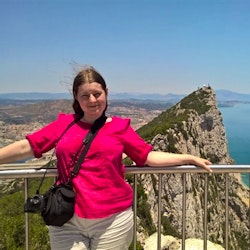 Helen
Africa Travel Specialist
Helen's review
Mauritius is a lovely island – so easy to visit and to include alongside a safari or a longer South African itinerary. The weather is generally good all year round, with the winter months being slightly cooler. The locals speak of June as being the secret season – lovely weather, lower rates and less holiday makers! The holiday can be as relaxing or as active as you wish with almost all hotels offer complimentary non-motorised watersports. Personally I used my break in Mauritius as a week of downtime to relax, read a book, spend quality time with my loved ones and live life at a slower pace…..
Helen's Top Tips
If you''re after spectacular sundowners, the west side of the island offers the most incredible sunsets.
For something a little special, contact us about booking a catamaran cruise for a chilled day out to a remote beach with a lunch BBQ
Car hire is a great addition to your holiday, as decent infrastructure makes it easy for you to explore much of the island under your own steam.
Best Time To Visit Mauritius
Best time
Good time
Average time
Quick Country Facts
Time Zone:GMT +4 hours
Captial:Port Louis
Currency:Mauritian Rupee
Temperature:20-25°
Why visit Mauritius?
Mauritius is almost entirely surrounded by coral reefs, providing sheltered beaches and calm lagoon waters in which to enjoy an array of watersports. Snorkelling can often take place straight off the beach and scuba diving is also good, with a variety of dive sites to explore around the island. Most hotels have their own professional dive centre. 
Mauritius has a vibrant, multicultural population. Its location on the trading route to India and Asia brought the Dutch, the French and finally the English to the island to settle. Indians and Chinese came to work and trade the sugar cane that still covers much of the island, and the island's colourful history is reflected in its cuisine, with a wide range of Indian, Chinese, Creole and European influences in its dishes, and in the variety of cultural and religious festivals that are celebrated.
Nature enthusiasts enjoy a hike in Black River Gorges National Park, which protects the island's last stand of original tropical forest and as such, is the stronghold for endangered birds such as Pink pigeon, Mauritius kestrel and Echo parakeet. 
Many of our clients enjoy a relaxing break on Mauritius after having had an active holiday in either Madagascar, South Africa or Reunion. 
All of our holidays are tailor-made to your requirements by an expert Travel Specialist
Easy connections for safari & beach holidays
The island is just four hours flying time from South Africa and Kenya, and Mauritius holidays can therefore easily be combined with the thrill of game viewing and the natural beauty of Africa's dramatic landscapes. The calm azure waters around Mauritius make it an attractive place to dust off after a safari and its possible to visit all year round, with May to October being the driest period. In the more humid summer months (November to April) the climate is warmer and wetter but has sunny spells in between showers. Read more about when to go on holiday to Mauritius here. UK citizens don't need a visa making holidays to Mauritius one of the most popular safari and beach combinations.
Mauritius holidays – activities beyond the beach
Whilst holidays to Mauritius are primarily all about soaking up the rays, there are a whole host of activities and excursions beyond the beach that can be easily incorporated into most Mauritius holidays. You can explore the island by hiring a car for self-drive or with a chauffeur for a reasonable supplement, or by taking one of the excursions available from your hotel. You drive on the left in Mauritius (as we do in the UK) and this adds to the ease of exploring under your own steam.
If you enjoy flora, don't miss the giant Victoria Regia water lilies in the Pamplemousses Gardens, one of the world's oldest Botanical Gardens. Fine French colonial buildings and the lively covered market can be visited in the capital, Port Louis, along with its modern piazza-style Caudan Waterfront and its shops and cafés located around the port.
In central Mauritius, drive through Curepipe to the surrounding hills for panoramic views of the island from Trou aux Cerfs, an extinct crater 85m deep and 200m wide. Access to the near by Black River Gorges National Park is via La Marie, and it protects the remaining indigenous forests of the island. Finding sanctuary in the forest of Black River Gorges National Park are some of the world's rarest and most endangered birds, notably the Mauritius kestrel; Pink pigeon; Echo parakeet and Mauritius fody. A half-day walk in the forest should reveal most of these rarities, along with other endemic species. Grand Bassin Lake, another extinct volcano crater close by, is a revered pilgrimage site for Hindus.
Apart from discovering the forest and unique birdlife on walking trails or perhaps on one of the protected offshore islets like Ile Aux Aigrettes, try a mountain bike tour or take a catamaran cruise with snorkelling opportunities.
Superb range of places to stay
For the most part beach resorts are relatively large in Mauritius, although well-designed to maximise a sense of space, but there are also small boutique hotels such as Hotel 20°Sud with just 28 rooms, and a number of exclusive mid-sized hotels such as Shanti Maurice with 61 suites and villas, and the elegant Oberoi with 71 villas and pavilions. Some hotels are adult-only such as Paradise Cove which we recommend for honeymooners and many have facilities specifically for families. The Belle Mar Plage is an excellent option, with a 2-km long beach, that manages to work well for couples and families alike.
See our suggested selection of hotels – there is a superb range of hotels on the island and we tailor-make all our Mauritius holidays, so just tell us what sort of things you like (style, size, facilities, sporting activities) and when you want to travel.
Looking for inspiration?
You'll find expert travel guides, holiday ideas and insider tips now on the Rainbow blog
Why Choose Us?
Passionate travel experts
We've been leading wildlife travel since our first South Africa tours over 25 years ago

Our Travel Specialists have lived in their specialist area for years

We work with local guides to immerse you deeper in our diverse range of experiences
Personal & tailor-made
You'll speak to your own expert who'll share their first-hand knowledge

We'll make your itinerary seamless with 24/7 emergency contact available

Your Travel Specialist will listen to ensure you have the best chance of seeing the wildlife you love
Responsible by nature
We take care to actively contribute to the conservation of environments we visit

For select countries, we make a charitable donation on your behalf when you make your booking

We've partnered with conservation experts and NGOs to curate responsible tours
For the latest travel advice from the Foreign, Commonwealth and Development Office check www.gov.uk/travelaware