Rainbow Madagascar Specialist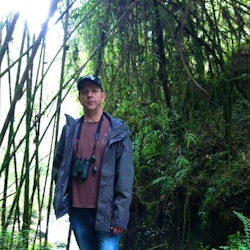 Derek
Product Manager Madagascar and Alternative Africa
Derek's review
While technically you could visit Madagascar year-round, climate is so (surprisingly) diverse across the country that the month you decide to travel in, is pivotal in terms of determining which regions – or even sub-regions – you will - or won't - be able to explore. Its also crucial to ensure before you travel, to secure the services of capable and experienced guides, so that you make the most of the time you have in each of the sites of interest. More than 90% of first-time visitors want to see some of the country's wildlife, much of which is endangered. Scattered around the country is a large selection of protected areas – we can arrange tours to all of those allowing access to tourists, from hugely popular national parks such as Isalo and Andasibe-Mantadia, to new sites like Andrafiamena Andavakoera, Loky-Manambato and magnificent Marojejy, which our clients come back raving about.
Derek's Top Tips
Madagascar's essence lies in its contrasting habitats, so first-time visitors should explore at least one key Eastern rainforest site. (Andasibe-Mantadia National Park is pivotal). The direct opposite can be experienced by then going to the sub-arid South. To complete your overview, add a tropical deciduous forest in the island's Western half.
The more desirable lodges servicing popular protected areas like Andasibe-Mantadia; Ranomafana, Ankarana and Montagne d'Ambre, are subject to an international 'bunfight' for rooms up to a year or more in advance. So book early to avoid disappointment.
The country's most enjoyable microclimate is the Sambirano Domain in the far North-west. There, we work with a reputable, responsible outfit (based on Nosy Be) which can take you Whale watching in July - September; looking for Whale sharks from October - December and observing Green turtles on coral reefs year round.
Best Time To Visit Madagascar
Best time
Good time
Average time
Quick Country Facts
Time Zone:GMT +3 hours
Captial:Antananarivo
Currency:Malagasy Ariary
Why visit Madagascar?
Madagascar a strong contender for offering the most distinctive wildlife tours on the planet. The island separated from the African mainland some 165 million years ago. And much of its fauna and flora has evolved in a unique way - an astonishing 80% is endemic.
Five per cent of the world's known animal and plant species are found here; and only here. 
For most visitors, the number one attraction is Madagascar's lemurs, of which there are over 100 species and subspecies, but beneath the forest canopy you'll also find fossa, tenrecs and a myriad more unique animals. Innumerable highlights include:
The world's smallest and largest chameleons
Some 106 species of birds, including 5 unusual endemic families
More than 400 frog species, 99% of which are unique to the island.
And these aren't the only attraction. Madagascar tours offer deserted white sand beaches to lounge on, a coastline on the Indian Ocean ready to be snorkelled and a melting pot of Malayo-Polynesian, African and European cultures to explore.
All of our holidays are tailor-made to your requirements by an expert Travel Specialist
An island apart
The island's best-known native inhabitants are the lemurs and peeling back the branches in a mist shrouded cloud forest to spot them is the highlight of any trip. They come in all shapes and sizes. Some could fit into an egg cup; others are the size of a baboon. Night-time walks are a must; witness the forest come alive as Madagascar's many nocturnal creatures venture out to play. Look out for dwarf and mouse lemurs; chameleons, tree frogs and various Malagasy owls and nightjars as you prowl through the dark.
Coastal pursuit
It's not just the interior that is teeming with wildlife. A Madagascar island holiday introduces you to magnificent coastline that is dotted with colourful reefs and remote islands that are a haven for marine species. Watch humpback whales breaching off Ile Sainte Marie or Nosy Be from July to September; spot Whale sharks (October to December) around Nosy Be archipelago or swim near sea turtles nibbling sea grass on a snorkelling excursion.
This pretty cluster of islands offers sparkling sands and stylish lodgings. If you're not the sit on the sand type, however, you can continue your Madagascar adventure on a diving, horse-riding or kayaking excursion.
The expert on Madagascar holidays
Few people know more about the island and its wildlife than
Derek Schuurman
. He's contributed to several guidebooks on the region, including Bradt's Madagascar Wildlife, and works with us at Rainbow. Derek and his colleagues, who have travelled around Madagascar extensively, can craft an itinerary that matches your interests and how you want to spend your Madagascar holiday.
Our trips take you to rainforests and national parks. Visits to NGO- run protected areas means you can meet Madagascar's famous creatures with help from our expert wildlife guides. For a beach holiday with a twist, opt for our wonderful Madagascar Made Easy Deluxe itinerary. 
Where to go in Madagascar
Holiday types
Whether you want to explore the natural world with the whole family or encounter rare species with just a few other travellers.
Choose the tailor-made itinerary that's right for you.
Looking for inspiration?
You'll find expert travel guides, holiday ideas and insider tips now on the Rainbow blog
Why Choose Us?
Passionate travel experts
We've been leading wildlife travel since our first South Africa tours over 25 years ago

Our Travel Specialists have lived in their specialist area for years

We work with local guides to immerse you deeper in our diverse range of experiences
Personal & tailor-made
You'll speak to your own expert who'll share their first-hand knowledge

We'll make your itinerary seamless with 24/7 emergency contact available

Your Travel Specialist will listen to ensure you have the best chance of seeing the wildlife you love
Responsible by nature
We take care to actively contribute to the conservation of environments we visit

For select countries, we make a charitable donation on your behalf when you make your booking

We've partnered with conservation experts and NGOs to curate responsible tours
For the latest travel advice from the Foreign, Commonwealth and Development Office check www.gov.uk/travelaware