Rainbow São Tomé & Príncipe Specialist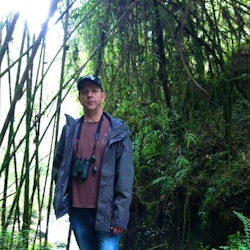 Derek
Product Manager Madagascar and Alternative Africa
Derek's review
As some 'in the know' have commented, Sao Tome & Principe is an excellent example when it comes to fashionable getaways of choice for eco-conscious travellers. These far-flung tropical isles in the Gulf of Guinea will most likely never cater for the masses, given their modest infrastructure and the difficulty of access. This makes them ideal for people keen on exploring something refreshingly new. While both the islands are blessed with some beautiful, discreetly located beaches, hoteliers and guides will quickly point out that their country is 'not a beach destination' - because there is plenty to see and experience for visitors with an interest in natural history and in local culture. During a 12 day trip, you can take in magnificent scenery; hike mountain rainforest trails; observe rare birds; go turtle-watching and snorkelling; savour delicious traditional cuisine and enjoy learning about the wonderful community spirit so evident among the resident people.
Derek's Top Tips
Booking both international and domestic flights for Sao Tome & Principe holidays long in advance, is imperative to avoid disappointment - when I travelled in March 2023, all the flights were full
An equatorial rainforest climate means being prepared for the occasional rain shower is sensible. Do take a dry-bag to protect valuables and perhaps a second pair of trainers if you're going hiking.
For the Sao Tome section of your trip, pre-arrange activities in advance so that you're sure that in busy times, the right vehicles will be allocated for your trip.
Best Time To Visit São Tomé & Príncipe
Best time
Good time
Average time
Quick Country Facts
Time Zone:GMT +0 hours
Captial:Sao Tome
Currency:Sao Tome and Principe Dobra
Temperature:27-32°
 Why visit São Tomé and Príncipe?
A São Tomé and Príncipe holiday offers an exceptional combination of nature, beach and delicious food. There are plenty of things to do. Travel writer Nigel Tisdall has visited them many times and describes them as a "dream destination for any fan of Africa's undiscovered corners".
Thickly forested with interesting birdlife - the 28 endemic species include some of the world's rarest and most endangered birds, such as Dwarf olive ibis, Sao Tome fiscal and Sao Tome grosbeak - these impressive volcanic islands seem impossibly remote. However, getting here is pretty straightforward thanks to TAP/ Air Portugal's flights from Lisbon – and there's no jet lag, making a seven - 10 day holiday there entirely manageable!
Discovered by the Portuguese in the 1470s, the islands were for many centuries given over to roças, feudal plantations growing sugar, coffee and cacao using slaves and contract workers imported from Cape Verde, Angola and Mozambique. These became the forefathers of today's São Toméans, who now number around 220,000. The colonists left abruptly in 1975, leaving a ghostly legacy of bandstands, churches and wide, tree-lined avenidas. Portuguese remains the official language, bars sell Superbock beer, hotel rooms are priced in Euros.
Our verdict: go now, before the masses discover these delightful isles!
All of our holidays are tailor-made to your requirements by an expert Travel Specialist
Where to go in São Tomé & Príncipe
Looking for inspiration?
You'll find expert travel guides, holiday ideas and insider tips now on the Rainbow blog
Why Choose Us?
Passionate travel experts
We've been leading wildlife travel since our first South Africa tours over 25 years ago

Our Travel Specialists have lived in their specialist area for years

We work with local guides to immerse you deeper in our diverse range of experiences
Personal & tailor-made
You'll speak to your own expert who'll share their first-hand knowledge

We'll make your itinerary seamless with 24/7 emergency contact available

Your Travel Specialist will listen to ensure you have the best chance of seeing the wildlife you love
Responsible by nature
We take care to actively contribute to the conservation of environments we visit

For select countries, we make a charitable donation on your behalf when you make your booking

We've partnered with conservation experts and NGOs to curate responsible tours
For the latest travel advice from the Foreign, Commonwealth and Development Office check www.gov.uk/travelaware