Rainbow Botswana Specialist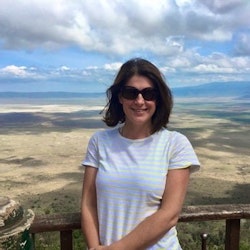 Shelley
Africa Travel Specialist
Shelley's review
Botswana is my all-time favourite safari destination! The safari experience itself is personal and intimate, the quality of accommodation is excellent ranging from 5 star chic lodges to the more rustic 3 star options and the people of Botswana are friendly and welcoming! There main safari regions in Botswana are accessible via light aircraft flights. The camps offer land based, water based or a combination of activities ranging from 4x4 safaris, boat safaris, mokoro safaris and walking safaris – it's really a full and amazing experience!
Shelley's Top Tips
Enjoy a Helicopter Trip over the Okavango Delta – offering a totally different 'game' perspective!
Fly into Maun and out of Kasane, so that you can combine a visit to Botswana with an add-on to Victoria Falls.
Visit Botswana in Shoulder Season (Apr-Jun & November) for cooler weather and lower rates!
Best Time To Visit Botswana
Best time
Good time
Average time
Quick Country Facts
Time Zone:GMT +2 hours
Captial:Gaborone
Currency:Pula
Why visit Botswana?
Botswana is one of the top rated destinations for wildlife. It is also a well known conservation success story with about a fifth of the land covered by wildlife reserves, meaning it is one of the largest areas of remaining wildernesses in Africa. 
Lodge sizes and safari operator sizes are limited in order to reduce their carbon footprint, they are under strict regulations with regards to recycling, grey water and waste disposal, even down to the materials used to build lodges and the electricity that is used on a day to day basis. 
Botswana offers so many unique, incredible environments, in turn offering diverse wildlife habitats making it one of the best and most authentic safari destinations in Africa. 
All of our holidays are tailor-made to your requirements by an expert Travel Specialist
Botswana safari holiday locations
The ever changing lagoons and rivers of the Okavango Delta are one of the most iconic images of the African continent, an awe-inspiring landscape of extreme beauty. Flying over the Delta from Maun, the gateway town, you will get your first glimpse of the overwhelming size and intricate design of the watery web spreading through the palm groves and papyrus swamps. A wild and watery oasis home to the daily dramas of the residing animals, the best way to explore the Okavango Delta is in a traditional dug out canoe also known as a mokoro. Effortlessly gliding through the reed lined crystal clear water you can expect to pass playful spotty necked otters, vibrant malachite kingfishers and vigilant hunting fish eagles. The seasonal waters have a dynamic effect on the animal population which includes elephants, hippos, buffalos and baboons along with the endangered cheetahs and wild dogs.
Threading through the borders of Botswana and Namibia, the Chobe River is another vital water source and haven for the country's most exotic animals. Sitting on the banks of the river, the sprawling 11,000km2 of the Chobe National Park is home to four distinct eco-systems and habitats including baobab trees, acia woodlands, verdant flood plains and thickets fringing the lake. This diverse collection of lands attracts an impressive assortment of animals from high numbers of big cats to a catalogue of unusual antelope species including waterbuck, red lechwe and chobe bushbuck. The campsites within the national park are not enclosed by any fences so you will share your accommodation with the wandering giraffes, warthogs and zebras. Waking up on safari to see a couple of elephants casually perambulating in front of your lodge is a remarkable, unforgettable moment.
Within the immense Chobe enclave sits the Linyanti Reserve, another superb Botswana safari area and watery abyss which sometimes gets overlooked for the neighbouring Delta and Chobe National Park. The permanently flowing river attracts a heaving number of prey followed by predators and is teeming with bird life. The limited number of lodges and camps with a total capacity of 100 guests creates an unrivalled private and secluded atmosphere, perfect for an authentic wild safari.
For a startling change of scenery travel to the centre of the country and the lunar landscape of the Makgadikgadi salt pan flats. The wall-to-wall skies and never ending views of the stark flat terrain stretching out in front of you, the salt pan is the perfect choice for the traveller looking for an intrepid adventure, keen to step off the beaten track.
Botswana holidays and Victoria Falls
Just a short journey from Botswana, an excellent way to complete your holiday is experiencing the colossal natural wonder of the Victoria Falls. Thundering down between the borders of Zambia and Zimbabwe, you will be treated to incredible stunning views of this iconic sight. Botswana and Vic Falls is a classic pairing, the perfect combination of wildlife and natural wonder.
A landlocked country, Botswana is circled by some wonderful neighbours including the harsh Namibia, the diverse South Africa, the wild Zambia and the magnificent Zimbabwe. A multi-centre holiday, for example combining the great destinations of Botswana and Zambia, takes advantage of two exhilarating Africa countries in one fantastic holiday.
A Botswana safari, or a combination of Botswana and Zambia, is certain to be an amazing holiday with our travel experts devising for you a tailor made itinerary.
Holiday types
Whether you want to explore the natural world with the whole family or encounter rare species with just a few other travellers.
Choose the tailor-made itinerary that's right for you.
Looking for inspiration?
You'll find expert travel guides, holiday ideas and insider tips now on the Rainbow blog
Why Choose Us?
Passionate travel experts
We've been leading wildlife travel since our first South Africa tours over 25 years ago

Our Travel Specialists have lived in their specialist area for years

We work with local guides to immerse you deeper in our diverse range of experiences
Personal & tailor-made
You'll speak to your own expert who'll share their first-hand knowledge

We'll make your itinerary seamless with 24/7 emergency contact available

Your Travel Specialist will listen to ensure you have the best chance of seeing the wildlife you love
Responsible by nature
We take care to actively contribute to the conservation of environments we visit

For select countries, we make a charitable donation on your behalf when you make your booking

We've partnered with conservation experts and NGOs to curate responsible tours
For the latest travel advice from the Foreign, Commonwealth and Development Office check www.gov.uk/travelaware