Rainbow Sierra Leone Specialist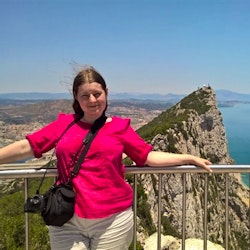 Helen
Africa Travel Specialist
Helen's review
Before I visited myself, I didn't know anyone else who had been to Sierra Leone. I had heard the famous Bounty advert was filmed on a beach there (showing my age now!), plus stories of chimpanzees using tools, so getting to see wildlife and scenery off the beaten track ticked several boxes for me. My travels there showed me far more than expected; beautiful forests and rivers, very English sounding place names, history of the slave trade at Bunce Island, unique ecotourism and community projects and lots of very fresh seafood.
Helen's Top Tips
Travel with a professional local guide and stay in locally run guesthouses. There are no big chain properties here.
A stay on Banana Island offers snorkelling, boat trips, and a laid-back island way of life.
Franco, a well-known expat, runs a guesthouse and restaurant on the peninsula – a great spot for lunch by the beach.
Best Time To Visit Sierra Leone
Best time
Good time
Average time
Quick Country Facts
Time Zone:GMT +0 hours
Captial:Freetown
Currency:Sierra Leonean Leone
Why visit Sierra Leone?
You'll find wonderful, welcoming people, 400 kilometres of virtually deserted white sand beaches and a fascinating heritage entwined with the abolition of slavery. Inland, the country is covered with the lush evergreen forests, which are home to some interesting primates and birds  as well as alluring forest-dependent wildlife such as various species of duiker antelope; white-bellied (tree) pangolin, anomalures, water chevrotain and hammerhead bats. (Do note that population densities tend to be low and animals are skittish due to years of persecution). 
Our Sierra Leone programme is a work in progress, which aims to capture the essence of this poorly known destination. Itineraries are tailor-made, drawing on our extensive, first-hand knowledge and the most up-to-date information from our local partners. Our very own Helen Kennedy is one of the UK's very few travel specialists who has personally been able to explore the country. 
Whether you want to retrace the footsteps of freed slaves returning to Africa, watch the sunset from a deserted beach, drop into a Krio village in the hills behind Freetown, or head inland to Gola and Tiwai in pursuit of rainforest-dwelling birds and perhaps some mammals confined to the Upper Guinea ecosystem, we can arrange a trip to suit your interests.
Travel in Sierra Leone is all about connecting with the places you visit and the people who live there. English is widely spoken and you can expect a warm and genuine welcome wherever you go.
All of our holidays are tailor-made to your requirements by an expert Travel Specialist
Where to go in Sierra Leone
Looking for inspiration?
You'll find expert travel guides, holiday ideas and insider tips now on the Rainbow blog
Why Choose Us?
Passionate travel experts
We've been leading wildlife travel since our first South Africa tours over 25 years ago

Our Travel Specialists have lived in their specialist area for years

We work with local guides to immerse you deeper in our diverse range of experiences
Personal & tailor-made
You'll speak to your own expert who'll share their first-hand knowledge

We'll make your itinerary seamless with 24/7 emergency contact available

Your Travel Specialist will listen to ensure you have the best chance of seeing the wildlife you love
Responsible by nature
We take care to actively contribute to the conservation of environments we visit

For select countries, we make a charitable donation on your behalf when you make your booking

We've partnered with conservation experts and NGOs to curate responsible tours
For the latest travel advice from the Foreign, Commonwealth and Development Office check www.gov.uk/travelaware