Rainbow Mozambique Specialist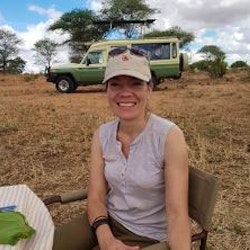 Janine
Africa Travel Specialist
Janine's review
Mozambique is a beautiful beach destination offering a rustic bare-foot experience in a tropical setting. The warm Indian Ocean make it a perfect place for swimming and chilling on the beach. The islands of the Bazaruto Archipelago offer some of the best diving and snorkelling in the world. The Humpback whales migrate along the coast from July to November. As a beach destination, it's more affordable than the Seychelles and less built up and 'resorty' than Mauritius. The best time to visit is during the winter season when the temperatures are cooler, less humid and the least chance of rain (June to October), although August has been known to be windy!
Janine's Top Tips
Combine a beach stay in Mozambique with a safari in the Greater Kruger National Park.
Enjoy an excursion on a traditional dhow at sunset or to a neighbouring island.
It's also a destintion for the history buffs and culture vultures, with Portuguese and traditional colonial influences clear.
Best Time To Visit Mozambique
Best time
Good time
Average time
Quick Country Facts
Time Zone:GMT +2 hours
Captial:Maputo
Currency:Mozambican metical
Why visit Mozambique
Two for the price of one, this region essentially contains two countries, the north and south of Mozambique, which display a clear divide in their population density, and depth of exploration.
With its sweeping beaches, Mozambique's southern coastline is frequently populated by African holidaymakers. It's a hotspot for snorkelling, diving and game fishing, and the beaches aren't too far from Johannesburg, accessible in less than a day's drive. Similarly, Mozambique's famous national parks are within reach, and well worth a visit.
Meanwhile the north of Mozambique is the region's road less travelled, with much still to be uncovered. This is good news if you're a courageous traveller, keen to pave your own way through the wilderness. With limited industry and pollution, the untouched waters and sands are pure, pristine, and enveloped in absolute peace, ready and waiting for your discovery.
All of our holidays are tailor-made to your requirements by an expert Travel Specialist
Where to go in Mozambique
Holiday types
Whether you want to explore the natural world with the whole family or encounter rare species with just a few other travellers.
Choose the tailor-made itinerary that's right for you.
Looking for inspiration?
You'll find expert travel guides, holiday ideas and insider tips now on the Rainbow blog
Why Choose Us?
Passionate travel experts
We've been leading wildlife travel since our first South Africa tours over 25 years ago

Our Travel Specialists have lived in their specialist area for years

We work with local guides to immerse you deeper in our diverse range of experiences
Personal & tailor-made
You'll speak to your own expert who'll share their first-hand knowledge

We'll make your itinerary seamless with 24/7 emergency contact available

Your Travel Specialist will listen to ensure you have the best chance of seeing the wildlife you love
Responsible by nature
We take care to actively contribute to the conservation of environments we visit

For select countries, we make a charitable donation on your behalf when you make your booking

We've partnered with conservation experts and NGOs to curate responsible tours
For the latest travel advice from the Foreign, Commonwealth and Development Office check www.gov.uk/travelaware