Rainbow Rwanda Specialist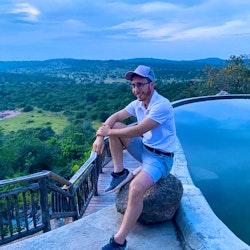 Craig
Africa Travel Specialist
Craig's review
Rwanda is known for its gorillas, but there's also SO much more to the country than it's world-famous primate trekking opportunities! When planning your trip, I advise you to think about all of the other activities you can do too; I recently thoroughly enjoyed kayaking on Lake Kivu, tried my hand at mountain biking, and loved slipping gently downstream in a canoe while admiring stunning views of the Virunga volcanoes. Top it all off with a scenic sundowner and you've got yourself a fantastic active travel experience!
First-time visitors should head for the Volcanoes National park for epic gorilla treks, but returning visitors (or those with enough time to visit several places) should set off for Akagera National Park. Now managed by African Parks, lions and rhino have been reintroduced to make this wild and remote region the only place in Rwanda home to the Big Five, and a great place to learn about conservation issues on the ground.
Craig's Top Tips
Visit in September, when the crowds are smaller and the weather is still decent, or plan a trip between January and March.
For a different facet of Rwanda, explore Akagera National Park for its papyrus lakeland and savannah setting, and learn first hand about the inspirational conservation efforts being managed by African Parks.
For gorilla tracking, you'll need a reasonable level of fitness. You'll need to be prepared to hike for up to a whole day at a time, even though reaching the Gorillas can take as little as 45 minutes.
Best Time To Visit Rwanda
Best time
Good time
Average time
Quick Country Facts
Time Zone:GMT +2 hours
Captial:Kigali
Currency:Rwandan Franc
Why visit Rwanda?
The majestic mountains, rolling hills and lush grassy lowlands of Rwanda create a beautiful wild and untamed piece of Africa. Nicknamed 'Pays des Mille Collines', meaning 'Country of a Thousand Hills' in French, this tiny landlocked country is dwarfed by its neighbours is brimming with colossal landscapes and striking scenery. 
Built along a hillside with incredible views, the sophisticated capital Kigali is a remarkably safe city to explore. Kigali has a number of terrific places to stay including the luxury five-star Kigali Serena on the stylish Rue de Revolution and the family-run serene garden hotel, Chez Lando. A visit to the Genocide Memorial Centre is a powerful and heart-wrenching experience but important to remember the tragedies which happened not too long ago and to appreciate how much the country has recovered. Located in the heart of the country, Kigali is the gateway to your wildlife destinations in the north and south, a couple of days spent here a brilliant introduction to the country.
Travel to the north of the country and to the home of half of the world's wild gorilla population, Parc National des Volcans. Be prepared to trek up to altitudes of 3,000km and for anything from 45 minutes to five hours through thick vegetation, mud and regular rain showers. But encountering a family group, watching these rare, captivating gentle giants in the peaceful atmosphere of the montane forest is a truly outstanding reward for your hard work. By no means a spontaneous or bargain holiday, with permits costing $1,500 and selling out some time in advance, it's all worth it when face-to-face with the gorillas building their nest for a midday rest, collecting food and cuddling their young.
The small size of the country comes in handy when travelling from the Parc National des Volcans in the north down to the Nyungwe National Park in the south. Driving along Lake Kivu, the freshwater lake separating Rwanda and Democratic Republic of Congo, is a wonderful way to experience everyday Rwandan life. You'll be captivated by both the people and the countryside as you weave through the hills and mountains on the eucalyptus lined roads, passing smiling villagers and children shouting 'Abuzungu!'
Time spent in Nyungwe National Park is an exciting and charming wildlife adventure. The bio diversity across the largest montane forest in central Africa is absolutely stunning, the 1,000km2 rich with endemic species. Trek across the 130km of trails in this untouched tropical rainforest in search of the 13 species of primates including grey-cheeked mangabeys, rwenzori colobus monkey and owl-faced monkeys and, of course, habituated chimpanzees. Nyungwe is a paradise for birdwatchers who will relish the thrill of spotting any of the 310 exotic species of the forest as they flit and fly through the branches amongst the vibrant colourful butterflies and orchids.
Holidays in Rwanda are, to use one word, exceptional. While we can easily organise a five day gorilla trekking tour as an add on to your Kenya and Tanzania holiday, we really would recommend you spend more time exploring and discovering everything Rwanda has to offer.
All of our holidays are tailor-made to your requirements by an expert Travel Specialist
Looking for inspiration?
You'll find expert travel guides, holiday ideas and insider tips now on the Rainbow blog
Why Choose Us?
Passionate travel experts
We've been leading wildlife travel since our first South Africa tours over 25 years ago

Our Travel Specialists have lived in their specialist area for years

We work with local guides to immerse you deeper in our diverse range of experiences
Personal & tailor-made
You'll speak to your own expert who'll share their first-hand knowledge

We'll make your itinerary seamless with 24/7 emergency contact available

Your Travel Specialist will listen to ensure you have the best chance of seeing the wildlife you love
Responsible by nature
We take care to actively contribute to the conservation of environments we visit

For select countries, we make a charitable donation on your behalf when you make your booking

We've partnered with conservation experts and NGOs to curate responsible tours
For the latest travel advice from the Foreign, Commonwealth and Development Office check www.gov.uk/travelaware