Rainbow Namibia Specialist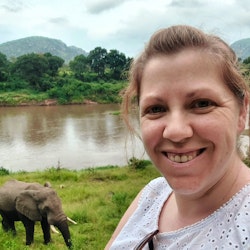 Nikki
Africa Travel Specialist
Nikki's review
Namibia has a dramatic landscape of contracts; ancient amber dunes juxtaposed against grey-blue water where the south-west coast of the African continent meets the Atlantic. The culture is just as interesting, but with a total population at around 2 million people, you will have to search harder to find the locals than finding oryx jotted against the horizon. In the north seek out the Damaraland elephants, adapted over thousands of years to know just where to dig for water, in the south sleep out between the dunes under the milky-way, where stars so bright you need to cover your eyes to get any sleep at all.
Nikki's Top Tips
Embark on a self-drive itinerary and make the most of Namibia's excellent infrastructure to best experience the vastness of the land.
In Swakopmund go dune buggy-ing for adrenaline-filled fun.
For an amazing (and blow-the-budget) experience stay at Serra Cafema in the far north to meet the Himba people. Their traditions and simple way of life will have a lasting impression on you, long after you've returned home.
Best Time To Visit Namibia
Best time
Good time
Average time
Quick Country Facts
Time Zone:GMT +2 hours
Captial:Windhoek
Currency:Namibian Dollar
Why visit Namibia?
Beauty comes naturally to Namibian lands. Comprised of rolling canyons, tangerine deserts, sunlit bays and national parks packed full of mesmerising wildlife, it's one of the world's fewest places still largely untouched by civilisation, offering stillness and serenity that simply can't be sought elsewhere.
On your visit here, it's essential that you see Damaraland and Kaokoland, some of the best spots showcasing Nambia's rural splendor. Spitzkoppe also can't be missed – the region's most photographed and painted place, its body of granite rocks and dust-laden grounds make for the perfect artistic muse. For a glimpse of Nambia's famous land-grazers, visit the Skeleton Coast Park, where lions stride the sands, along with elephants and rhinos.
All of our holidays are tailor-made to your requirements by an expert Travel Specialist
Holiday types
Whether you want to explore the natural world with the whole family or encounter rare species with just a few other travellers.
Choose the tailor-made itinerary that's right for you.
Looking for inspiration?
You'll find expert travel guides, holiday ideas and insider tips now on the Rainbow blog
Why Choose Us?
Passionate travel experts
We've been leading wildlife travel since our first South Africa tours over 25 years ago

Our Travel Specialists have lived in their specialist area for years

We work with local guides to immerse you deeper in our diverse range of experiences
Personal & tailor-made
You'll speak to your own expert who'll share their first-hand knowledge

We'll make your itinerary seamless with 24/7 emergency contact available

Your Travel Specialist will listen to ensure you have the best chance of seeing the wildlife you love
Responsible by nature
We take care to actively contribute to the conservation of environments we visit

For select countries, we make a charitable donation on your behalf when you make your booking

We've partnered with conservation experts and NGOs to curate responsible tours
For the latest travel advice from the Foreign, Commonwealth and Development Office check www.gov.uk/travelaware