Rainbow Uganda Specialist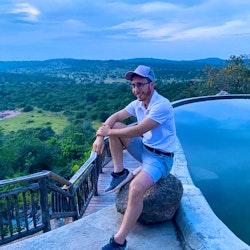 Craig
Africa Travel Specialist
Craig's review
The great thing about Uganda is it is such a diverse country with such varied landscapes. This means that all sorts of activities and experiences are on offer to visitors. Chimps and gorillas tend to steal the headlines but Uganda also has stunning scenery ranging from savannah, mountains and forests to papyrus swamplands, hot springs and remote plains, bringing with it exceptional birding, primate and game viewing opportunities.
I like to facilitate for my clients to delve beneath the surface of Uganda so am keen to facilitate for you to learn about both the issues surrounding the wildlife you've come to see, and how local communities and park authorities work together towards a sustainable future. Give me a call to find out how you could meet reformed poachers now working in park anti-poaching units or learn from park authorities about protecting the big predators from locals when they encroach on local livestock on your Uganda holiday.
Craig's Top Tips
Try to do more than one gorilla tracking excursion: on the first, you're usually focussed on your camera while on the second, you can observe and enjoy the experience more.
Head to Murchison Falls, where game viewing never fails to impress and learn about conservation efforts such as Operation Twiga which involves the translocation of endangered Rothschild's giraffes
For remote sundowners in spectacular locations, consider Semliki Wildlife Reserve or Kidepo National Park - at both, you can enjoy the remoteness and spectacular African sunsets
Best Time To Visit Uganda
Best time
Good time
Average time
Quick Country Facts
Time Zone:GMT +3 hours
Captial:Kampala
Currency:Ugandan Shilling
Temperature:21 - 35°
Why visit Uganda?
Uganda is full of cosy and relaxing accommodation in picturesque locations, the ideal places for you to unwind during your trip. You'll hear the welcoming cries of 'Hello Mzungu!' from  friendly Ugandans as you arrive at your lodge, always excited to proudly share their incredible home with you. Alongside all the adventurous peregrinations into the rainforest it is possible to enjoy exhilirating game drives and boat excursions.
We offer a range of small intimate group tours created by Craig Kaufman - who spent four years living in the country and managing lodges there - as well as tailor made Uganda holidays ranging from five to 17 days. Slightly smaller than the UK and astonishingly diverse, holidays to Uganda are a unique experience filled with authentic wildlife spotting opportunities.
*Please note: Uganda visas must now be applied for on-line prior to travel.
All of our holidays are tailor-made to your requirements by an expert Travel Specialist
Following in the primate's footsteps
Nothing matches the breath-taking atmosphere of coming into contact and sharing the dense jungle with mountain gorillas. Resting on the edge of Rift Valley sits the Bwindi Impenetrable National Park, a dense mist-covered rainforest amongst the volcanic hills sheltering gorillas, chimpanzees, the golden monkeys of Mgahinga Gorilla National Park, black-and-white colobus and blue monkeys. Although gorilla tracking can be hard work, nothing compares to the golden hour you will spend watching these magnificent creatures, peering at each other through the leaves of the rich, verdant forest. After the adrenaline rush of your gorilla encounter, you will be looking for a comfortable resting place to rest your feet close to the park. Nkuringo Gorilla Lodge provides the perfect answer. Beautifully located, the en- suite rooms provide stunning views of the rainforest and the Virunga volcano chain from your private veranda.
An alternative, yet no less fascinating or exhilarating, primate experience is a visit to the Kibale Forest. Journeying through the gorgeous tropical forest, your guide will lead you to a barrel of chimpanzees where you will observe these energetic wild animals swinging from the trees up above, playing together and setting up their nests for their nights sleep. Kibale is also famed for its other primates, including several species of monkeys. 
­Spotting the Big Five
Journey over to the south-west of the country to the Queen Elizabeth National Park, the most visited national park of Uganda thanks to its great faunal diversity including 100 mammal species. The park is a great venue for watching the dramatic natural showdown of predator versus prey amongst the grasslands, with more than 20 predator species being found there. They include lion, jackal and the ever elusive leopard. 
The swamps of Lake Edwards Flats - just like those in Mabamba and the Nile Delta near Murchison Falls - are a rewarding site in which you will seek the intriguing shoebill. Standing at an impressive five feet with a wingspan of over eight feet, a sighting of this bird menacingly snapping and clicking its huge bill at lungfish is another fantastic wildlife experience to tick off in the Ugandan wildlife to-spot list.
Holiday types
Whether you want to explore the natural world with the whole family or encounter rare species with just a few other travellers.
Choose the tailor-made itinerary that's right for you.
Looking for inspiration?
You'll find expert travel guides, holiday ideas and insider tips now on the Rainbow blog
Why Choose Us?
Passionate travel experts
We've been leading wildlife travel since our first South Africa tours over 25 years ago

Our Travel Specialists have lived in their specialist area for years

We work with local guides to immerse you deeper in our diverse range of experiences
Personal & tailor-made
You'll speak to your own expert who'll share their first-hand knowledge

We'll make your itinerary seamless with 24/7 emergency contact available

Your Travel Specialist will listen to ensure you have the best chance of seeing the wildlife you love
Responsible by nature
We take care to actively contribute to the conservation of environments we visit

For select countries, we make a charitable donation on your behalf when you make your booking

We've partnered with conservation experts and NGOs to curate responsible tours
For the latest travel advice from the Foreign, Commonwealth and Development Office check www.gov.uk/travelaware