Rainbow Costa Rica Specialist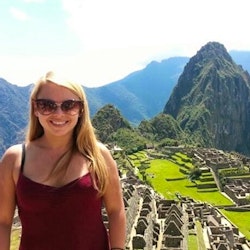 Kristen
Latin America Travel Specialist
Kristen's review
Chances are high that you've heard enthusiastic reports from a friend or family member who's visited; Costa Rica is probably Central America's most popular tourist destination – and for good reason. With over half the country covered in rainforest, a variety of different microclimates and over 70 national parks, Costa Rica is a haven for wildlife enthusiasts and adventure seekers alike. While there are some amazing coastline and wild beaches, it's essential to delve into the interior to truly experience what the country has to offer. From rolling savannahs in the Guanacaste region to mist-covered mountains in Monteverde, the landscapes are as diverse as they are beautiful. You can observe sloths, toucans, monkeys and sea turtles, explore pristine cloud forests and traverse suspension bridges amid treetops all in one country – it's diverse ecosystem truly setting it apart. The beauty of Costa Rica, however, goes beyond its landscapes; it extends to the country's commitment to conservation and sustainability. As it's at the forefront of ecotourism, you can learn about Costa Rica's efforts surrounding wildlife protection with guides, lodges and tour companies. Their hard work helps achieve levels of sustainability certifications seen in few other destinations.
Kristen's Top Tips
There's no need to wander far for wildlife experiences! During my trip, I awoke to the sounds of howler monkeys through my screen sided bungalow and observed sloths in the trees on hotel grounds
Visit the famous Tabacon hot springs near the Arenal Volcano! The underground network of volcanic waters feeds the springs, which provides a surefire way to achieve proper relaxation
White water rafting is incredible! Although I didn't know what to expect when signing myself up for the Pacuare River's grade IV rapids, I was pleasantly surprised by how exhilarating it was
Best Time To Visit Costa Rica
Best time
Good time
Average time
Quick Country Facts
Time Zone:GMT -6 hours
Captial:San Jose
Currency:Costa Rican Colon
Why visit Costa Rica?
Small but mighty, a holiday to Costa Rica has the sort of scenery that drops jaws.
You'll find picture-perfect beaches, pristine rainforests, steaming hot springs and smouldering volcanoes. It's a landscape that has helped Costa Rica holidays become a first choice for adventure and nature-lovers alike. Head to the incredible Monteverde cloud forest to meet native wildlife, discover the once active volcano of Arenal or enjoy some thrills along the white water of the Pacuare river. As a pioneer of eco-tourism, Costa Rica offers some stunning places to stay, where you can enjoy the peace immersed in the landscape - plus, enjoy some of the best locally-sourced food. 
All of our holidays are tailor-made to your requirements by an expert Travel Specialist
Adventure in Costa Rica
As the adventure capital of the Americas there is no shortage of ways to plunge into Costa Rica's wildlife and beautiful surroundings. In Monteverde cloud forest meet:
hummingbirds,
spider monkeys,
howler monkeys and
three-toed sloths
The rope bridges and walkways tied between the treetops offer a rare chance to get a little closer to the animals. So if you're looking for a Costa Rican wildlife holiday, then this is definitely a must see.
Always fancied getting up close to a volcano? Follow hiking trails up and around the foothills of Arenal, once Costa Rica's most active volcano, before soaking your weary feet in volcanic hot springs. For yet more of a soaking, head to the Pacuare River to go white water rafting down the deep river gorge – you'll be plummeting through lush primary rainforest, although you'll not have much time to take in the view as you tackle the swirling rapids.
Walk on the wild side
More animals await along Costa Rica's Caribbean and Pacific coastlines, including humpback whales and dolphins. The highlight, however, is on the sands of Tortuguero National Park. Visit from July to October and you'll witness green turtles come ashore to lay eggs in their droves at what's their most important nesting habitat in the western hemisphere. The park itself is a haven for wildlife and a boat trip along its jungle-fringed canals and lagoons will reveal alligators, tapirs, peccaries, iguana, anteaters and white faced monkeys.
Holiday types
Whether you want to explore the natural world with the whole family or encounter rare species with just a few other travellers.
Choose the tailor-made itinerary that's right for you.
Looking for inspiration?
You'll find expert travel guides, holiday ideas and insider tips now on the Rainbow blog
Why Choose Us?
Passionate travel experts
We've been leading wildlife travel since our first South Africa tours over 25 years ago

Our Travel Specialists have lived in their specialist area for years

We work with local guides to immerse you deeper in our diverse range of experiences
Personal & tailor-made
You'll speak to your own expert who'll share their first-hand knowledge

We'll make your itinerary seamless with 24/7 emergency contact available

Your Travel Specialist will listen to ensure you have the best chance of seeing the wildlife you love
Responsible by nature
We take care to actively contribute to the conservation of environments we visit

For select countries, we make a charitable donation on your behalf when you make your booking

We've partnered with conservation experts and NGOs to curate responsible tours
For the latest travel advice from the Foreign, Commonwealth and Development Office check www.gov.uk/travelaware