Rainbow St Helena Specialist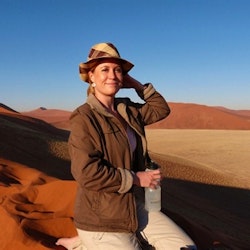 Candice
Head of Rainbow
Candice's review
With untouched volcanic landscapes, forested mountains descending to subtropical interiors and craggy coastlines, collectively boasting superb biodiversity, this is a destination with huge potential for adventure and off-the-beaten-track travel experiences. Up until recently, weekly flights year-round have meant that visitors must spend at least a week on the island. With twice-weekly flights now being introduced during the summer months, we still believe that St Helena is well deserving of at least a week's stay, but the increased flight frequency can give you more flexibility with your travel dates.
Candice's Top Tips
If you want to spot whale sharks, make sure you plan your trip during their nearby migration season, between January and March.
When in the district of St Pauls, tour Plantation House to spot the island's most iconic resident; a 187 years old, Seychelles giant tortoise called Jonathan.
St Helena offers visitors the opportunity to see a variety of birds such as the endemic St Helena plover (Wirebird) and White or fairy tern.
Best Time To Visit St Helena
Best time
Good time
Average time
Quick Country Facts
Time Zone:GMT
Captial:Jamestown
Currency:GBP
Why visit St Helena?
The island's superb biodiversity and untouched landscapes have long attracted a handful of savvy travellers and keen wildlife enthusiasts who could only reach St Helena by taking a five day voyage by boat from Cape Town. In 2017, the first commercial flights commenced operation flying once weekly, from Johannesburg and via Windhoek to reach the Island. Recently, mid-week flights have also begun operating, offering more flexibility for your St Helena holiday. 
All of our holidays are tailor-made to your requirements by an expert Travel Specialist
Culture & History
Though only small, St Helena plays a big part in world history. Found by Portuguese explorers in 1502, it became a Dutch possession initially, and then British. It was a vitally important port of call during the development of the British Empire and remains a significant retainer of colonial history.
Being so secluded, the island was also used as a place of exile for particularly problematic prisoners, including approximately 6,000 Boers, the famous figure of King Dinuzulu and Napoleon, who died on the island in 1821.
Underwater Adventures
Crystal clear, sun-touched waters provide the perfect conditions for snorkelling and scuba diving. The nature of the nearby dive sites vary, from rugged reefs and enclosed caves, to smooth cobbles and sand, though the wealth of opportunities to meet magnificent wildlife remains the same across all sites.
Sea temperatures range from 66 to 75°F (19 to 25°C) and visibility can range from 16 to 130 feet (5 to 40m). For peak visibility, it's best to visit from December to May. Dives vary between 40 and 130 feet (5 to 30m+) and o?er a range of diving opportunities.
Looking for inspiration?
You'll find expert travel guides, holiday ideas and insider tips now on the Rainbow blog
Why Choose Us?
Passionate travel experts
We've been leading wildlife travel since our first South Africa tours over 25 years ago

Our Travel Specialists have lived in their specialist area for years

We work with local guides to immerse you deeper in our diverse range of experiences
Personal & tailor-made
You'll speak to your own expert who'll share their first-hand knowledge

We'll make your itinerary seamless with 24/7 emergency contact available

Your Travel Specialist will listen to ensure you have the best chance of seeing the wildlife you love
Responsible by nature
We take care to actively contribute to the conservation of environments we visit

For select countries, we make a charitable donation on your behalf when you make your booking

We've partnered with conservation experts and NGOs to curate responsible tours
For the latest travel advice from the Foreign, Commonwealth and Development Office check www.gov.uk/travelaware