Rainbow Zimbabwe Specialist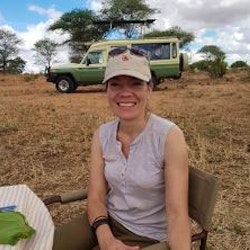 Janine
Africa Travel Specialist
Janine's review
To me Zimbabwe is the forgotten gem of Africa. People are put off by the politics but that is not necessary. Victoria Falls has to be one of my favourite places in the world, it has to be seen to be believed. The people in Victoria Falls Town are incredibly friendly. You can walk down to the falls from the town, it's not unusual to come across a random elephant, buffalo, baboon or monkey on your journey there, just randomly walking down the road! Hwange National Park is home to not only the Big 5 but also many protected species such as the African Wild dog, the aardvark and the Serval to name a few.
Janine's Top Tips
Spot the endangered African Wild Dogs (painted dogs/wolves) in Hwange National Park.
Sundowners and the Boma dining experience at Victoria Falls Safari lodge is a must for a great drumming and meat extravaganza!
Watch out for the Vervet Monkeys at Victoria Falls, they can be very cheeky!
Best Time To Visit Zimbabwe
Best time
Good time
Average time
Quick Country Facts
Time Zone:GMT +2 hours
Captial:Harare
Currency:South African Rand
Why visit Zimbabwe?
Zimbabwe's widely celebrated natural wonders include a handful of national parks, home to a range of mighty mammals, stealthy reptiles, and swooping birds, which are difficult to catch sight of elsewhere. There's also Lake Kariba, the largest artificial lake in the world, provoking very real effects on its viewer – enchantment, and a burning desire to explore its deep blue waters. On land, you can explore Zimbabwe's rocky hills and cavernous ravines, some of Africa's most stunning details, along with its ancient city ruins and the majesty of Victoria Falls' endless outpour.
All of our holidays are tailor-made to your requirements by an expert Travel Specialist
Zimbabwe safari holiday locations
With our travel experts on hand to organise your tailor-made safari holiday, Zimbabwe's selection of national parks and wildlife reserves have an atmosphere of privacy and seclusion amongst the wilderness. Share the 100,000 acres of Malilange Wilderness Reserve between just two lodges, our choice the exclusive and elegant Singita Pamushana.
The cheerful and charming Zimbabwean people will welcome you to the camps and lodges, happily sharing their home with you. Many of the lodges hand-picked by our Zimbabwe experts have close links with their local communities meaning your stay will help to build the tourism of this beautiful country.
Zimbabwe holidays and Victoria Falls
The thundering power and splendour of the Victoria Falls is one of Africa's most iconic and awe-inspiring sights. Named after Queen Victoria, the indigenous name for the waterfalls Mosi-oa-Tunya means 'the smoke that thunders.' Exploring the various trails around the falls will take you to some incredible viewpoints of the falls, the scenic vistas bound to leave you astounded. 
Learn about the country's intriguing past at Great Zimbabwe. The sprawling ancient stone ruins are believed to have been built between 1100 and 1450 AD, in its time housing the royalty of the day. During its peak it is believed to have been home to 18,000 and a bustling hub for trading cloth, beads and ceramics from Arbia and China to the rest of East Africa in exchange for gold, ivory and copper.
With the idyllic beaches of Mozambique a quick flight east, it is easy to combine these two countries for an unforgettable holiday or an incredible honeymoon.
Holiday types
Whether you want to explore the natural world with the whole family or encounter rare species with just a few other travellers.
Choose the tailor-made itinerary that's right for you.
Looking for inspiration?
You'll find expert travel guides, holiday ideas and insider tips now on the Rainbow blog
Why Choose Us?
Passionate travel experts
We've been leading wildlife travel since our first South Africa tours over 25 years ago

Our Travel Specialists have lived in their specialist area for years

We work with local guides to immerse you deeper in our diverse range of experiences
Personal & tailor-made
You'll speak to your own expert who'll share their first-hand knowledge

We'll make your itinerary seamless with 24/7 emergency contact available

Your Travel Specialist will listen to ensure you have the best chance of seeing the wildlife you love
Responsible by nature
We take care to actively contribute to the conservation of environments we visit

For select countries, we make a charitable donation on your behalf when you make your booking

We've partnered with conservation experts and NGOs to curate responsible tours
For the latest travel advice from the Foreign, Commonwealth and Development Office check www.gov.uk/travelaware