Rainbow Ethiopia Specialist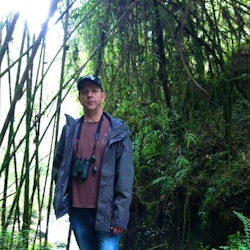 Derek
Product Manager Madagascar and Alternative Africa
Derek's review
This landlocked country is packed with things to see and experience: a big selling point for me is that the international flight from London to Addis Ababa on Ethiopian Airlines is just under 8 hours in duration. Once there, you can savour what many connoisseurs regard as the world's finest coffee. While a good 70%+ of our clients are attracted by the truly astonishing attractions along the 'Historical Route', increasingly, nature enthusiasts are visiting the country for its endemic mammals and birds. Those are mostly sought in the Simien and Bale Mountains, where trekking opportunities are arguably without equal in Africa. People who are keen to learn about tribal culture would do well to incorporate a visit to the South Omo & Konso region into their itineraries: meeting people such as the Mursi and Hamar, is an unforgettable experience. And finally, there are two spectacular annual festivals which are worth attending if you can – we regularly send our guests to attend Timket in January and also, Meskel in September, when endemic, yellow Meskel daisies create floral displays in the Highlands.
Derek's Top Tips
Avoid both Bale and Simien Mountains National Parks in July-August, as the rain is often bucketing down; roads are often impassable and visibility poor.
If you want to try to attend a Hamar bull-jumping ceremony, which is one of the most memorable Africa travel experiences one can have, plan your Omo adventure from June to September.
A great location at which to relax after a busy Ethiopia itinerary is Lake Langano in the Rift Valley. Sunsets are magical, with the evening chorus of birds cross-fading into the sound of innumerable frogs.
Best Time To Visit Ethiopia
Best time
Good time
Average time
Quick Country Facts
Time Zone:GMT +3 hours
Captial:Addis Ababa
Currency:Ethiopian Birr
Our tailor-made private Ethiopia holidays are guided by exceptionally knowledgeable English-speaking guides and capable drivers. A number of tastefully designed lodges and hotels have opened across the country in recent years. These include the Kuriftu Resorts and Spas in Bahir Dar and Bale Mountains Lodge in Harenna Forest. While most do not compare with lodges in more conventional East African destinations such as Kenya, they certainly now make travel in Ethiopia considerably more comfortable.
Important Notification
The Tigray region of Northern Ethiopia has been experiencing significant and prolonged unrest, so the FCDO is advising against all travel to that particular region, as well as all but essential travel to the rest of the popular northern Historical Route. We are monitoring the situation with our excellent Ethiopian partners and hope to resume arranging memorable tours for our clients from 2024, if not earlier.
All of our holidays are tailor-made to your requirements by an expert Travel Specialist
Looking for inspiration?
You'll find expert travel guides, holiday ideas and insider tips now on the Rainbow blog
Why Choose Us?
Passionate travel experts
We've been leading wildlife travel since our first South Africa tours over 25 years ago

Our Travel Specialists have lived in their specialist area for years

We work with local guides to immerse you deeper in our diverse range of experiences
Personal & tailor-made
You'll speak to your own expert who'll share their first-hand knowledge

We'll make your itinerary seamless with 24/7 emergency contact available

Your Travel Specialist will listen to ensure you have the best chance of seeing the wildlife you love
Responsible by nature
We take care to actively contribute to the conservation of environments we visit

For select countries, we make a charitable donation on your behalf when you make your booking

We've partnered with conservation experts and NGOs to curate responsible tours
For the latest travel advice from the Foreign, Commonwealth and Development Office check www.gov.uk/travelaware