Just 160 km east of Cape Town, the 2000-hectare Grootbos Nature Reserve nestles in fynbos-clad hills above Walker Bay, where the Southern Right Whale breeds each year.
The views of the dunes, the sea and the Cape of Good Hope are breathtaking. This small lodge provides tranquility in a unique and beautiful setting and a wide choice of activities.
Grootbos was the vision of the Lutzeyer family, especially brothers Michael and Tertius, who bought this over-grazed farmland in 1991 and set about removing alien plant species and restoring the biodiversity of the land. Garden Lodge was built first, with 11 luxury suites, and awarded five-star status in 2003. In 2004, the new five-star Forest Lodge was added, with a further 16 suites. There are also two private villas on the reserve.
'Fynbos' means 'fine bush', a type of vegetation unique to the Cape. More than 650 indigenous plant species have been identified in this floral kingdom, which botanist David Bellamy described as 'the best example of conservation of biodiversity I have ever seen'.
You can discover this coastal forest reserve on foot, on horseback, on a mountain bike or in a 4WD. These explorations come alive in the company of one of Grootbos' expert guides, and nature will enchant you at every turn.
Accommodation
The 11 luxurious Garden Lodge cottages are built of stone and thatch, and set in a large indigenous garden among ancient milkwood trees. Each has a lounge, as well as a bedroom, and a secluded deck offering panoramic views of Walker Bay. The rooms are large, spacious, and elegantly decorated in natural textures and colours.
Forest Lodge is built and decorated in a more contemporary style utilising modern materials and bold colours. You can be placed in either lodge, though families are accommodated in Garden Lodge. Each lodge has its own main lounge, swimming pool and restaurant – with fabulous views - specialising in fresh seafood and local produce.
Activities at Grootbos
Expert guides will reveal nature's secrets on beach, cliff top and forest walks. Take a boat trip to Dyer Island to see African Penguins, Cape Fur Seals and thousands of seabirds. Watch dolphins while walking along the foreshore, explore caves that have been inhabited from prehistoric times, and, if you are feeling adventurous, go down in a cage to come face to face with the Great White shark.
There are 19 horses on the reserve, including 5 ponies for children, and Grootbos can provide riding for both experienced riders and the novice.
Alternatively, you can lie on the beach and enjoy a specially prepared picnic.
All of our holidays are tailor-made to your requirements by an expert Travel Specialist
Tours staying at this accommodation
Itinerary Highlights
See the stunning scenery from Cape Town and along the garden route

Opportunity to see whales from Hermanus

Search for the big five in the game rich Timbavati game reserve at &Beyond Ngala Private Game Reserve
Responsible Travel
Grootbos has done terrific work in the local community.  The Lutzeyer brothers established the non profit Grootbos Foundation in 2003, running the social and environmental development plans such as the conservation of the biodiversity of Grootbos and its surrounds and the development of sustainable  livelihoods through education, ecotourism and research. Key projects include 'Green Futures' a horticultural and life skills college that offers education and employment to 12 young adults in the Gansbaai area. The Youth Development Programme, a project that uses sport to promote education, health and social integration. Future Trees was a project that started after fire destroyed a large area of this pristine wilderness in 2006, the area is slowly being rehabilitated with the planting of new Milkwood forests, paid for by organisations, families or individuals. 
Grootbos Private Nature Reserve has been named as one of The National geogrpahic Unique Lodges of the World, a small collection of global sustainable hotels and lodges providing travellers with authentic, enriching and inspirational experiences. Grootbos is certified by Fair Trade in Tourism South Africa and has received international acclaim for its conservation initiatives and a raft of awards for its conservation practice and for responsible tourism, including the 2000 British Airways' 'Tourism for Tomorrow' award and the 2001 MTN 'Premier Ecotourism Destination of the Year' award.
Families
Grootbos is ideal for families. There is so much to do here, even for small children. Children can visit the stable and spend time with the horses. There is a fenced-in paddock where they can ride ponies. There are other small animals at the stable and they can help with feeding. There are bug boxes and children can go collecting creepy crawlies. They can go to the beach with bucket and spade, collect shells, run on the sand dunes. They are welcome in the kitchen where they can bake chocolate chip cookies. In the evenings, there is often a movie in the information centre. 
Young children can eat in their cottage and discuss the day's events with their baby sitter. Grootbos makes great efforts to keep children of all ages happy. Children of all ages are welcome at Garden Lodge; Forest Lodge is for those aged 12 aand over. Two children under 10, or one under 17, can be accommodated on a sleeper couch in the lounge. Some of the cottages at Garden Lodge have a small children's bedroom, with a second bathroom, and one has two full-size bedrooms.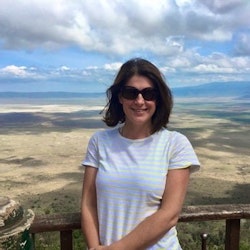 Shelley Phillips
All of our holidays are tailor-made to your requirements by an expert Travel Specialist
Why Choose Us?
Passionate travel experts
We've been leading wildlife travel since our first South Africa tours over 25 years ago

Our Travel Specialists have lived in their specialist area for years

We work with local guides to immerse you deeper in our diverse range of experiences
Personal & tailor-made
You'll speak to your own expert who'll share their first-hand knowledge

We'll make your itinerary seamless with 24/7 emergency contact available

Your Travel Specialist will listen to ensure you have the best chance of seeing the wildlife you love
Responsible by nature
We take care to actively contribute to the conservation of environments we visit

For select countries, we make a charitable donation on your behalf when you make your booking

We've partnered with conservation experts and NGOs to curate responsible tours
For the latest travel advice from the Foreign, Commonwealth and Development Office check www.gov.uk/travelaware