Close to Hluhluwe, is a romantic haven offering exclusive accommodation and exceptional game viewing. This is a particularly intimate camp consisting of nine indulgent bush villas and a luxury tented camp, perfect for couples seeking both privacy and the chance to view the 'Big Five'. The Thanda experience is as much about celebrating the richness of Zulu culture as it is about the abundant wildlife. You can learn about the Zulu way of life at Thanda and, in turn, the Zulu people living on the adjacent tribal land benefit from the reserve. Accommodation is either in the tented camp or in luxurious bush villas. In both, the attention to detail is exceptional and both reflect traditional Zulu design
Thanda Bush Villas
'Thanda' means 'love' in Zulu and the villas have an intimate, romantic feel. Each has a separate lounge with a fireplace. The spacious bathroom features a huge bathtub, big enough for two, placed next to a wall of windows that allow you to survey huge vistas while soaking in the tub. Each villa has a private deck area, heated plunge pool, outside shower, and a tsala or outside day-bed under the shade of a thatched roof.
Thanda Tented Camp
The camp offers more of a bush experience. Fifteen stylish tents, one of which is a luxury honeymoon tent with a jacuzzi deck, are positioned on the slope of a hill, with breathtaking views of the reserve. Each has a viewing deck and a specious bathroom with a shower. The newly refurbished tented camp includes a swimming pool deck and you can either have your meal in the dining area or under the stars around the boma.
Facilities
The main lodge is decorated in Zulu style and furnished with artefacts by local artists. There is a comfortable lounge, library, dining room and a boma fire where you can sit at night and have a nightcap. There is a dining deck, wine cellar, cigar bar, a business centre and a viewing deck overlooking soothing water features.
Thanda's wellness centre offers a range of beauty treatments and de-stressing therapies in the beautiful setting of the centre, or in your own villa. There are age-old Zulu treatments, as well as the more familiar range of western and eastern treatments. The wellness centre won Les Nouvelles Esthetiques Spa Awards 2006 in the Safari Spa category.
Wildlife
When the reserve was created, all the natural flora were battling against invasive alien plant species. The 14000 ha land is now being cleared of alien species and restored to its natural equilibrium, ensuring the original flora, fauna and wildlife can thrive. Cheetah, wild dog, giraffe, rhino, elephant and buffalo are among the animals that inhabit the reserve.
Food
Thanda puts a lot of effort into its cuisine. The chefs offer both Zulu and Western dishes. You can dine by the fire during the winter, under the stars during the summer or at your own private boma in the bush villas.
Activities
A stay at Thanda offers you the chance to enjoy both the bush and the KwaZulu shoreline. Inside the reserve, there are dawn and dusk game drives and bush walks. Beyond the reserve, you can take a trip to the coast at St Lucia to spot whales, swim with dolphins or dive with sharks during the season. Deep sea fishing, canoeing, kayaking, golf and visits to local traditional villages are all on offer.
Community
From the outset, Thanda has embraced the principles of CBNRM – Community Based Natural Resource Management – and has worked closely with the local communities to protect natural resources for the benefit of all. Apart from the direct employment of 118 staff members who live on the reserve, Thanda has trained and employs 58 men and women as Zulu dancers in the theatre and cultural centre. A further 26 local residents are employed on a contract basis and another 20 work for a contractor clearing alien vegetation, making a total of 222 new jobs in an area of great deprivation.

The Thanda Foundation works with the three neighbouring Tribal Authority Communities to support and find additional funding for worthwhile community upliftment projects. Other initiatives are aimed at helping the creation of small businesses and reducing the burden of HIV/AIDS, especially by education projects among school students.
All of our holidays are tailor-made to your requirements by an expert Travel Specialist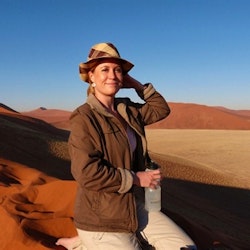 Candice Buchan
All of our holidays are tailor-made to your requirements by an expert Travel Specialist
Why Choose Us?
Passionate travel experts
We've been leading wildlife travel since our first South Africa tours over 25 years ago

Our Travel Specialists have lived in their specialist area for years

We work with local guides to immerse you deeper in our diverse range of experiences
Personal & tailor-made
You'll speak to your own expert who'll share their first-hand knowledge

We'll make your itinerary seamless with 24/7 emergency contact available

Your Travel Specialist will listen to ensure you have the best chance of seeing the wildlife you love
Responsible by nature
We take care to actively contribute to the conservation of environments we visit

For select countries, we make a charitable donation on your behalf when you make your booking

We've partnered with conservation experts and NGOs to curate responsible tours
For the latest travel advice from the Foreign, Commonwealth and Development Office check www.gov.uk/travelaware