Described as an 'Amazon Sanctuary' and selected as one of National Geographic's favourite eco-lodges of 2013, the Cristalino Lodge is the perfect choice for nature lovers. Found deep in the southern part of the Amazonian rainforest in an area rich with mammals, birds, butterflies and orchids, the location is hard to beat. Your magical Amazon adventure will begin straight away as you cross the smooth waters of the River Cristalino, the only way to access the hotel.
The lodge is carefully designed to harmoniously blend into the surrounding jungle. Designed with the aim of providing luxury comfort, the lodge's 18 guest rooms and bungalows provide you with a relaxing haven. With the use of natural materials and local handicraft creating a rustic charm, the running river will reward you with a calming soundtrack to help send you off to sleep.
Spend your leisure time relaxing on the floating deck above the River Cristalino, enjoying the sun in your swinging hammock or looking up at the blanket of stars from your rocking chair around the cosy open fire. If you can tear yourself away from the spell-binding intriguing nature, retire to the reading room to learn about the bio-diverse nature of your new home.
An absolute highlight is climbing to the top of one of the two 50 metre high observation decks, taking you close to the flora and fauna of the forest canopy. Enjoy the incredible views of the protected rainforest at sunrise or sunset as the tropical birds of macaws, parakeets and parrots fly around you. Keep an eye out for the Brazilian tapir, the capybara and spider monkeys through the tall dense jungle.
All of our holidays are tailor-made to your requirements by an expert Travel Specialist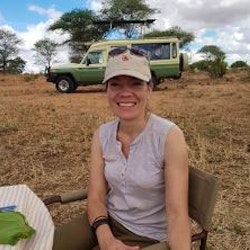 Janine Bullen
All of our holidays are tailor-made to your requirements by an expert Travel Specialist
Why Choose Us?
Passionate travel experts
We've been leading wildlife travel since our first South Africa tours over 25 years ago

Our Travel Specialists have lived in their specialist area for years

We work with local guides to immerse you deeper in our diverse range of experiences
Personal & tailor-made
You'll speak to your own expert who'll share their first-hand knowledge

We'll make your itinerary seamless with 24/7 emergency contact available

Your Travel Specialist will listen to ensure you have the best chance of seeing the wildlife you love
Responsible by nature
We take care to actively contribute to the conservation of environments we visit

For select countries, we make a charitable donation on your behalf when you make your booking

We've partnered with conservation experts and NGOs to curate responsible tours
For the latest travel advice from the Foreign, Commonwealth and Development Office check www.gov.uk/travelaware