Included in Africa's spectacular mammal fauna are 107 species of Primate. Add subspecies to that list and the continent's total increases to 192 taxa or 'varieties', which belong to four families. Today, reports the IUCN Primate Specialist Group, just over half of these (52.6%) are threatened to varying degrees.
Incredibly, Madagascar, while being about half the size of South Africa and accounting for just 2% of the African landmass, is home to 106 Primate species. Again, if we cobble subspecies onto the list, the total increases to 110 taxa, which belong to 5 families. Unfortunately for Madagascar however, a staggering 94.5% of its Primates are threatened, with some being perilously close to oblivion.
Among the Primates of Africa and Madagascar are some of the world's most charismatic and compelling species. Of course, this means that they're often the focal point of wildlife travel 'bucket list' entries. Looking at our 2022 and 2023 programme, here's a quick roundup of some signature excursions we're offering for those wanting to observe the Great Apes in tropical Africa, as well as the largest of Madagascar's lemurs, the Indri.
Our experts add some valuable tips and recommendations on where you can go for these unforgettable brushes with nature.
Featuring:
• Mountain gorilla tracking in Rwanda
• Lowland gorilla tracking in Republic of Congo
• Chimpanzee tracking in Uganda
• Indri watching in Madagascar
Images by Shutterstock unless otherwise indicated.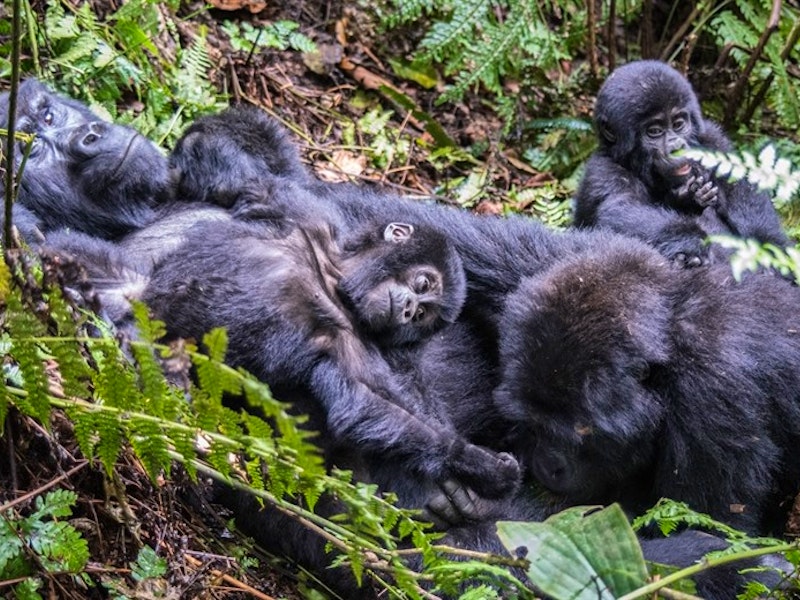 Mountain gorillas in Rwanda and Uganda
There are very few wildlife experiences as impressive and awe-inspiring as tracking the majestic Mountain gorillas (Gorilla beringei beringei) of Rwanda and Uganda. An estimated 1,063 of these Critically Endangered great apes remain in the wild today, all in Rwanda, Uganda and DRC. Of these, some 500 live in Rwanda's Parc National des Volcans. A trip to this 160km2 protected area is a 'must' for wildlife and conservation enthusiasts - the site receives protection thanks to collaboration between many organisations including the International Gorilla Conservation Programme, Dian Fossey Fund, resident communities and the Rwandese government.
During recent years, the Rwandan Development Board (RDB) has been hard at work reshaping the country's tourism industry into one with emphasis on low-volume, high end nature-based travel. Discerning Primate enthusiasts can, for example, stay at the impressive One&Only Gorilla's Nest, the closest resort to the trail-head at Volcanoes National Park. As one of Rwanda's most luxurious lodges, this provides a very comfortable base for a once-in-a-lifetime Gorilla-tracking adventure. We're proud to offer thoughtfully-curated, responsible holidays to visit the Mountain gorillas in both Rwanda and in neighbouring Uganda.
Top Tips:
• Because time spent visiting the gorillas is strictly limited to one hour, we highly recommend you fit in two gorilla tracking excursions. That golden hour with them is such an adrenaline rush that it feels as if it passes in five minutes! So, a second excursion is usually much appreciated, allowing for more photo and observation opportunities.
• Pack waterproofing for your camera gear and remember that using a flash is prohibited in this delicate environment.
• Be prepared for variable weather including blazing tropical sunshine and, usually, some rain.
"This is a really amazing experience. Don't forget to take snacks and water with you for your excursion; the time it takes to reach the gorillas varies – this is the wild after all! You can enlist the services of local porters at the trailhead for a nominal fee, which is a great help."
- Craig Kaufman, Rainbow Tours' Uganda expert.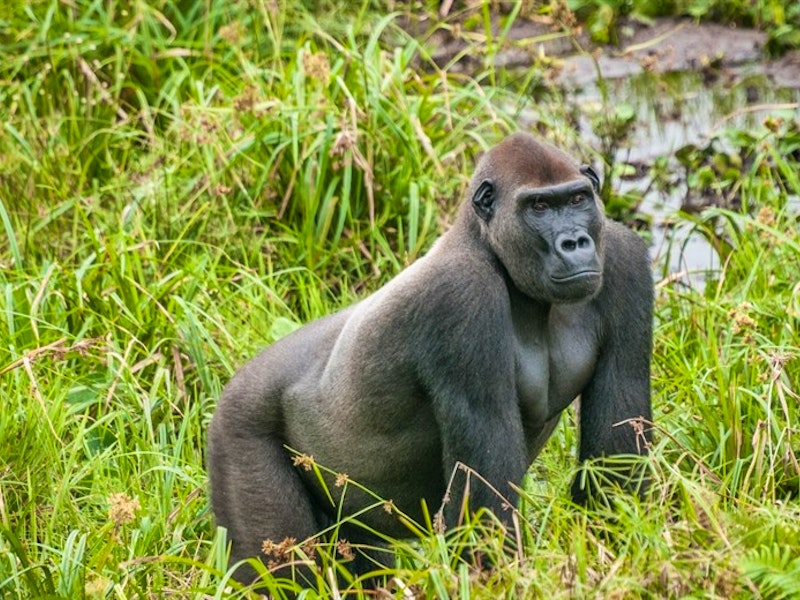 Western lowland gorillas in Republic of Congo
For discerning and active wildlife travellers who have already encountered the Mountain gorillas in Uganda or Rwanda, a light adventure sojourn to Republic of Congo is a refreshing choice.
While classified by the IUCN as Critically Endangered, the Western lowland gorilla (Gorilla gorilla gorilla) population is far healthier than that of its upland relatives, being estimated at around 100,000 in the wild. Of these, more than 25,000 are believed to find sanctuary in the magnificent 13,500km2 Odzala Kokoau National Park, where they inhabit lowland rainforest.
Of the three habituated Western lowland gorilla families in Odzala, two groups can be visited by tourists. During the carefully planned Congo trips, wildlife enthusiasts also stand an excellent chance at seeing other key mammals present, such as African forest elephant, Forest buffalo. Bongo antelope and Giant forest hog. 
Top tips:
* During the Congo trips, know that you will be getting around in various modes - travelling from point A to B can involve a road stint in a sturdy 4x4 vehicle; some walking; paddling in a canoe (or travelling in a motorised boat), and wading/ river walking, sometimes waist-deep.
* You'll be in the equatorial rainforests, so expect some inclement weather. There are two 'rainy seasons' i.e. March - May and September - October. Pack waterproofs, also to protect any camera gear. A dry-bag is essential.
*  A hat with a round brim rather than a peak or cap is highly recommended, to protect yourself from bugs. Pack a bandanna too, to cover your neck. 
* A pair of Teva sandles is indispendable for river walking. (Far more so than waders, which are cumbersome and not necessary). 
* During our Odzala adventures, visitors generally have the chance to do up to three Gorilla-watching excursions. The terrain is fairly flat in these lowland rainforests and you'll be accompanied by expert trackers and local guides. Protocol dictates that flash photography is not permitted.
Chimpanzees in Uganda
Our closest relatives in the animal kingdom, chimpanzees really are incredible. We share around 98.7% of our genetic blueprint with these endangered great apes, which can be found across the Afro-tropics. One of the very best places to observe wild Chimpanzees - in this case the eastern subspecies (Pan troglodytes schweinfurthii) is at Kibale Forest National Park in Uganda.
Half-day chimpanzee tracking excursions here are amazing, and come highly recommended by our Africa Travel Specialists. Of course, there's plenty more to see here besides Chimps, including a fantastic example of equatorial African evergreen forest and countless species of monkey and birdlife.
For those keen for a challenge and with a reasonable level of fitness, much longer, Chimpanzee habituation experiences make for an unforgettable adventure. Accompanied by local expert park rangers, you'll spend the day following a group of chimps as they go about their day. Start early, as the primates search for breakfast, and spend the rest of the day helping to habituate the chimps in their natural habitat.
Key Information:
• As with gorilla tracking, a permit is required and should be issued before arranging your tracking chimpanzees, as oftentimes demand outweighs availability. Ask one of our Travel Specialist for more information.
• You will be in an equatorial forest setting – so pack light clothing, protective wear for tropical sun and rain, as well as footwear with a strong grip for those jungle treks.
• Due to the natural environment, the use of flash photography is prohibited.
• Visitors with communicable human illnesses such as colds or flu will not be permitted to track, as the great apes have no resistance.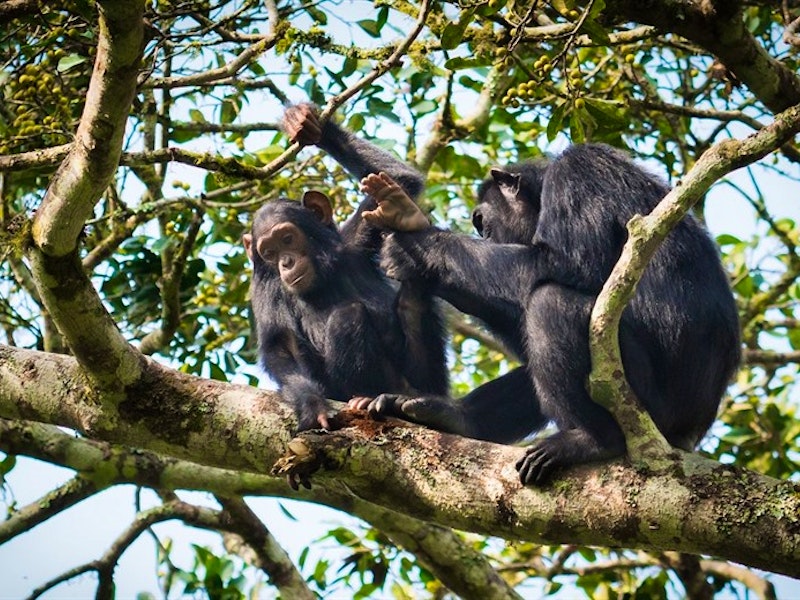 Indris in Madagascar
Our final entry for this instalment is the largest of the 110-odd species of lemur, the Indri (Indri indri), which can weigh up to 20 pounds. While not an ape, it is often described as 'ape-like', with a vestigial tail and those black, 'gloved' hands.
As mentioned previously, the overwhelming majority of Madagascar's lemurs are currently on the IUCN Red List of Threatened Species so we're passionate about responsible travel encouraging appreciation of the island's remaining wild places. Responsibly conducted tourism is one of the best and most impactful ways to ensure the continuation of lemur conservation. Many of our sample itineraries to Madagascar include a visit to the rainforests protected at Andasibe-Mantadia National Park, in the eastern rainforest band. This is in large part thanks to the thriving population of resident Indris, who do not survive in captivity so are best seen (and heard) where they belong, in their Malagasy rainforest home.
Top Tips:
• Make sure to pack rain gear for inclement weather, which happens most days in Madagascar's rainforests. Remember to pick up a small umbrella to protect your camera – even in the rain you'll have some perfect photo opportunities!
• Terrain here is usually hilly, so paths can be muddy and slippery after rain. Take footwear with a sturdy grip and ankle support.
• Permits for protected areas need to be arranged in advance; we include these in our tour prices.
• You will need to be able to walk unassisted for at least two to three hours in Andasibe in order to track and observe one of the resident habituated family groups of indri.
• We highly recommend venturing into the Malagasy rainforests during the early morning, when diurnal wildlife is at its most active.
'You may well hear Indri before you even get into the reserve, as the sound travels for miles over the rainforest in the early mornings. Its similar to whale song, but quite hard to describe. You just have to go and hear and see them for yourself!'
- Helen Kennedy, Madagascar expert