When the Falkland Islands Tourist Board invited me to visit this unusual destination, I jumped at the chance to see the archipelago for myself. Keen to experience as much as possible, my trip was rather a 'whistle-stop tour' as I stayed on a different island each night during my week-long stay.
It's a less leisurely trip than we'd typically arrange for our clients, but I wanted to return to the UK armed with as much new travel knowledge as possible. It was the most amazing tour, and it's been hard to narrow the memorable moments down to just 10, but here you go! 
1 – Walking from Darwin House to Goose Green
On the first day of my trip I landed in Mount Pleasant and was transferred by road to Darwin House. The drive took around an hour and I loved staring out of the new and unfamiliar landscapes of the island. Once there, I set off for a walk and headed towards Goose Green, just over three kilometres away, which is the largest sheep farm on East Falkland with over 100,000 hectares of land and approximately 80,000 sheep. It is also the site where the first and longest battle in the conflict between Britain and Argentina happened in 1982. Along my walk there and back I was fascinated to only see three vehicles pass me. I was walking slowly to take in all the beauty around me, and the roundtrip must have been at least two hours long.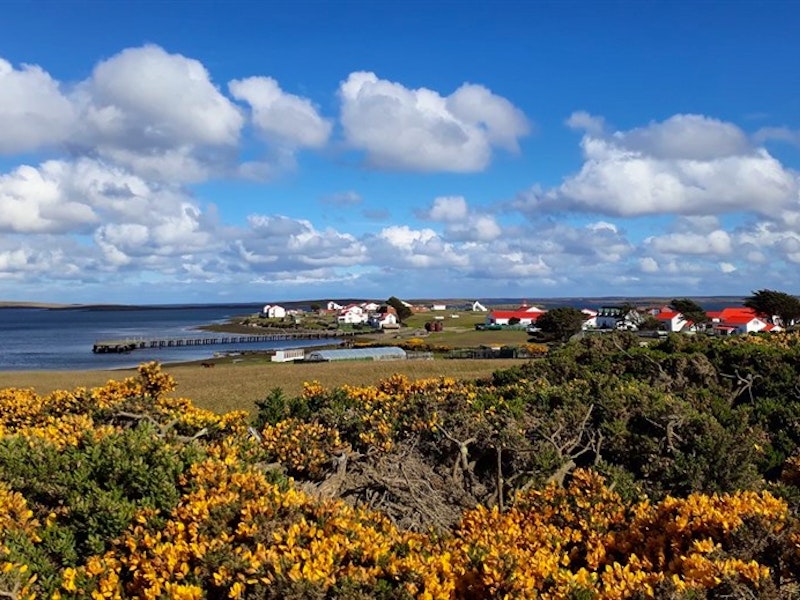 2 – Seeing penguins on Pebble Island
I had an early morning Falkland Islands Government Air Service (FIGAS) flight the following morning to Pebble Island, which is known for having a four-mile stretch of sandy beach; the longest in the Falklands. After being shown my room by Riki, the manager of the lodge, I was given a packed lunch and taken on an escorted excursion to the west of the island. This area is known for its abundant wildlife. You're likely to see turkey vultures; rockhopper, gentoo and magellanic penguins, imperial shags, and sometimes even Commerson's dolphins, which I was lucky enough to spot offshore! Sealions are also commonly seen here in November and December too, so I travelled at the right time! I returned to the lodge on such a high after seeing so much wildlife. I had even seen two king penguins and one macaroni penguin: five species in all!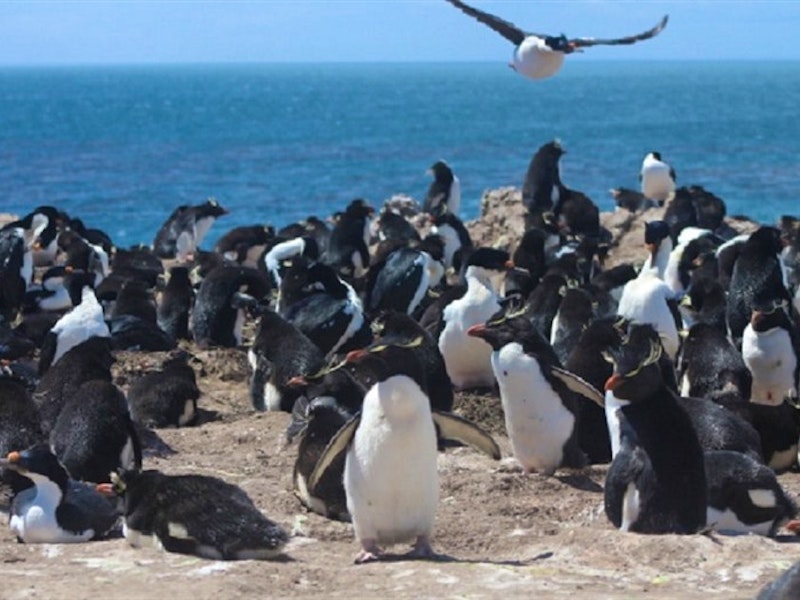 3 – Black browed albatross on West Point Island
Day three saw me fly to West Point Island. I was lucky enough to fly/land on to the island, as the strong winds the area receives mean usually you would fly to Carcass and then travel rest of the way on a 40-minute journey aboard SeaQuest (which is what I did on my return journey to my home for the night on Carcass that evening). West Point Island is famously known for being an internationally important breeding site for rockhopper penguins and the black browed albatrosses. The area to see these is the Devil's Nose, just a gentle just over two-kilometre hike from where the boat docks, though Land Rover transportation is provided if requested. As I was short on time, I decided to take the transport up and walk down. Devil's Nose is a dramatic coastline of sandstone cliffs, forming one of the most spectacular landscapes in the Falklands. With around 500 pairs of rockhopper penguins, and nearly 2,000 breeding pairs of black browed albatross this area is a nature lover's haven.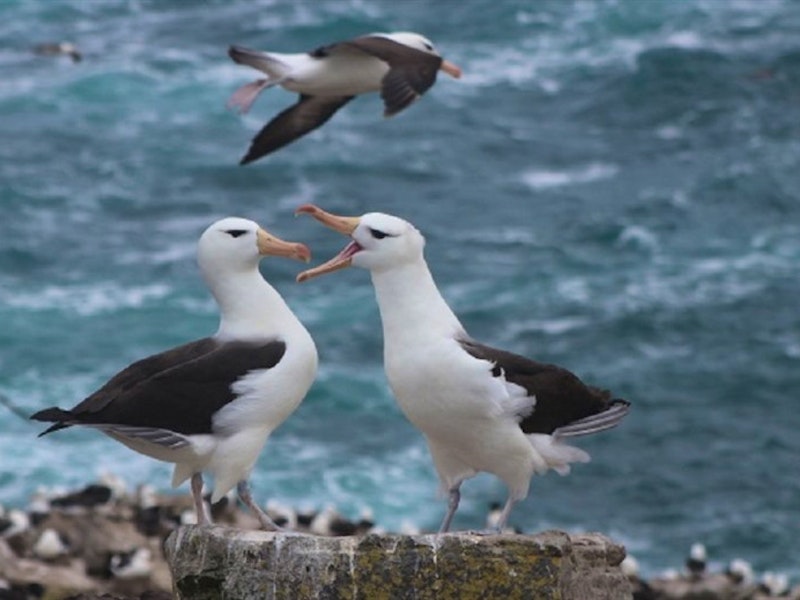 4 – 'Getting lost' on West Point Island!
After a few hours around the Devil's Nose area, it was time to head to the boat to take me to Carcass. This should have been an easy route down – clearly signposted by bright orange flags – but somehow I got disorientated and before I knew it, I was on the other side of the island! Or so I thought; I was actually just further up the coast near Cat Cove. After a bit of panicking, I retraced my steps back up the hill and realised where I went wrong. I could now clearly see the orange flags marking the trail… how I hadn't realised I wasn't following this before I'll never know, and finally got back to the SeaQuest where a search party was just beginning. Well, you can take the girl out the city, but can you take the city out the girl?!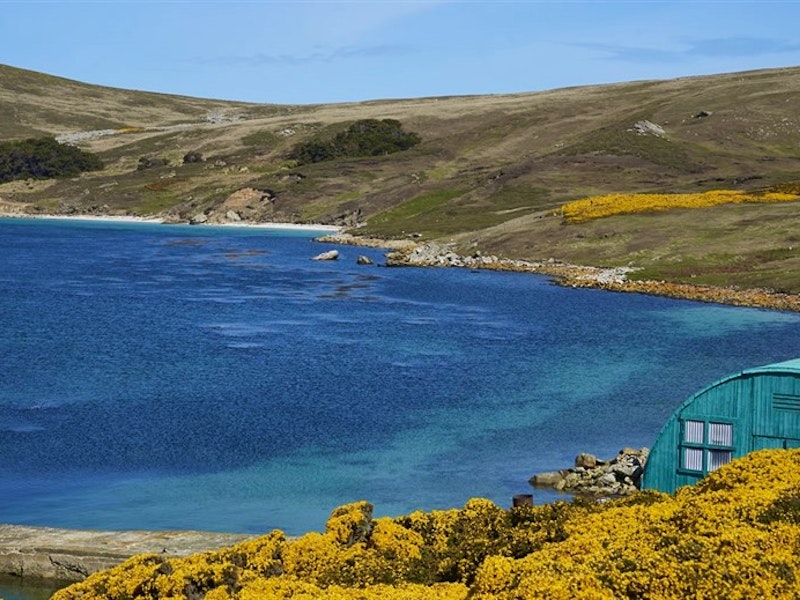 5 – Seeing whales and seals at sunrise on Sea Lion Island
I landed on Sea Lion Island at 3pm and as the island can be explored completely on foot, I took advantage of the long daylight hours and set off to explore. My goal that evening was to see gentoo and magellanic penguins swimming ashore to rest for the night. I'd never seen them swimming up close before and I was in awe at how playful and speedy they are in the water; it's something I'll never forget.
My flight the next day was early, but I had heard around 4am (sunrise at this time of year in the extreme southern hemisphere) at Elephant Corner was one of the best times to see elephant seals on the beach, and also the greatest chance to see orca just off shore too. Orca are visitors to this area between October and February, and deeply shelved coastline means this is one of the best places in the Falklands to see them. I wasn't disappointed, seeing at least two (though it could have been four or five) of the majestic creatures breathtakingly close to shore, as well as elephant seals in abundance! For at least 20 minutes I was alone on the beach taking in the inspiring beauty of these animals in their natural habitat.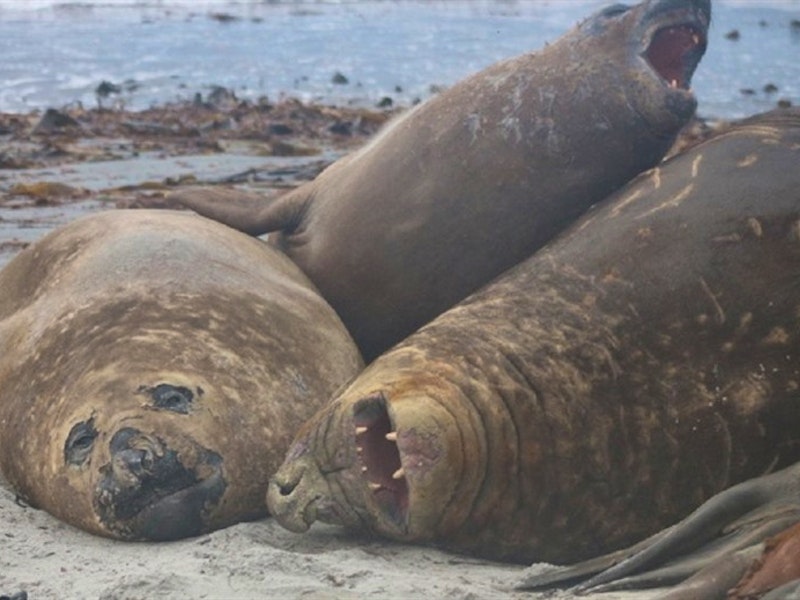 6 – Hours spent watching penguins play on Bleaker Island
After my early start on Sea Lion Island it was time to head to Bleaker Island, where the dramatic coastline shifts between low cliffs, sloping bedrock beaches, white sandy bays and sheltered coves. Mike and Phyl, who own the island, greeted me as I landed and took me on an orientation drive, seeing the main imperial cormorant colony, along with the southern rockhopper penguins near Long Gulch and magellanic and gentoo penguins up near Sandy Bay. I got dropped off here, and spent some time observing the gentoo nesting sites. These next few hours were spent sitting on the rocks in complete solitude apart from the playful penguins swimming and having fun all around me. An absolute highlight of my trip!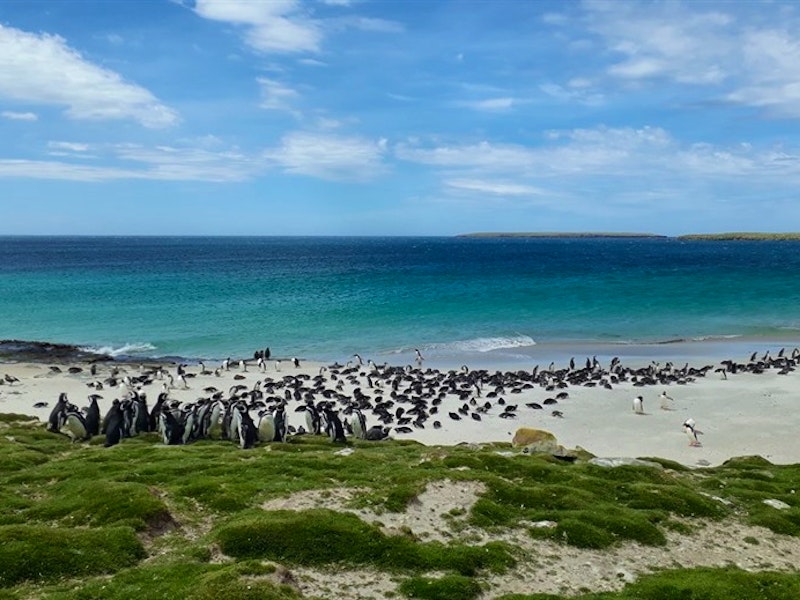 7 - Being mistaken for a penguin chick!
Top Falklands travel tip – don't wear a grey woolly hat when crouching down to take pictures of baby penguins! As I was kneeling down looking at the baby gentoo chicks and taking photos, I became aware of a skua bird flying low above my head. After it swooping over a few times and eventually hitting me in the head I realised that it thought I was a penguin, as my hat was a very similar colour to the chicks! Needless to say, my heart skipped a beat and I ran away towards Penguin Hill, which is at the northern end of Sandy Bay. I observed the wildlife from there safely for a while afterwards – it would have been a top comedy moment had I not been the only human there to witness it!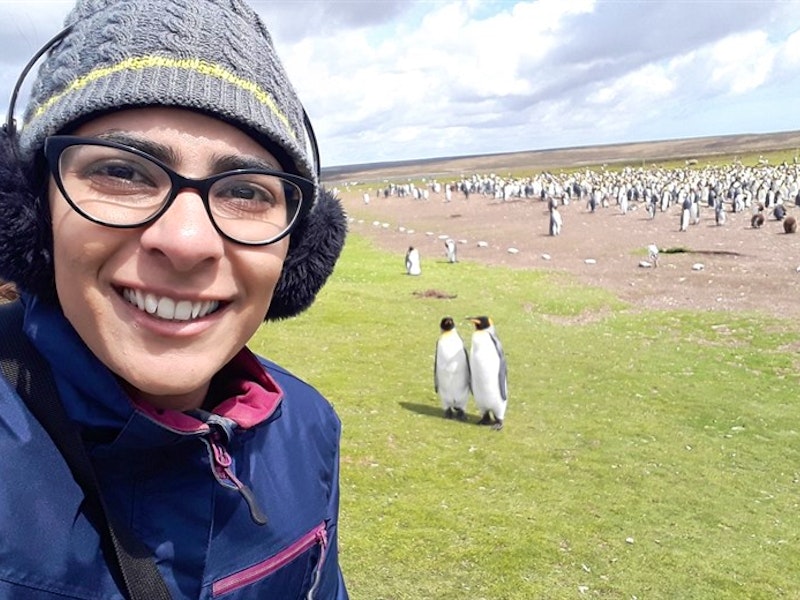 8 - Soaking up history in Stanley
In a rare moment away from the outstanding wildlife, I visited the Historic Dockyard Museum in Stanley, which I would really recommend as a 'must-see' for all visitors, providing insight into Falklands' life, both past and present.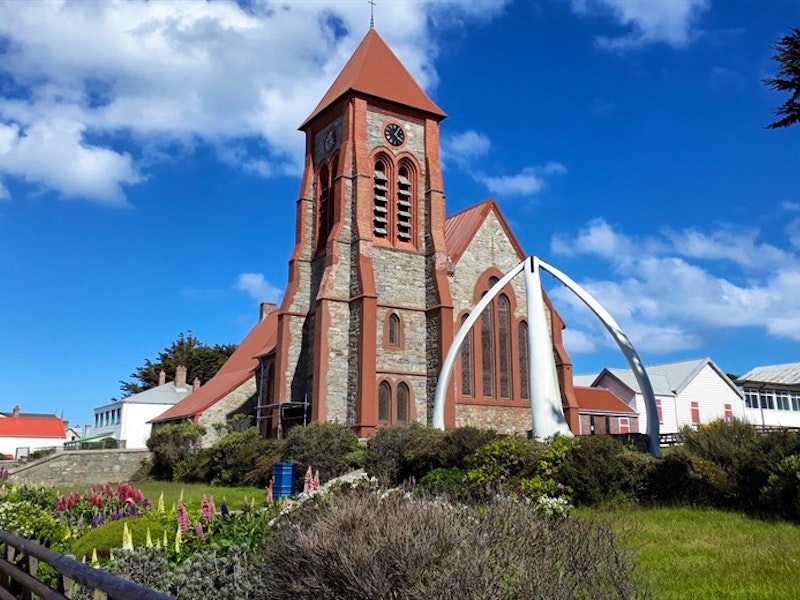 9 - King penguins at Volunteer Point
A highlight for anyone is a trip out to Volunteer Point, where you can see the largest king penguin colony outside of the Antarctic region. The journey there is part of the adventure and can take anything from one and a half hours to three hours via a 4x4 drive along rough terrain. The journey is more than worth it once you arrive at the two-mile, white sandy beach bordered by high grassy banks leading down to rolling greens. This area provides the ideal habitats for three breeding species of penguin, with the most iconic among them being king penguins, which I just loved observing and snapping pictures of. They really are as majestic as their name suggests!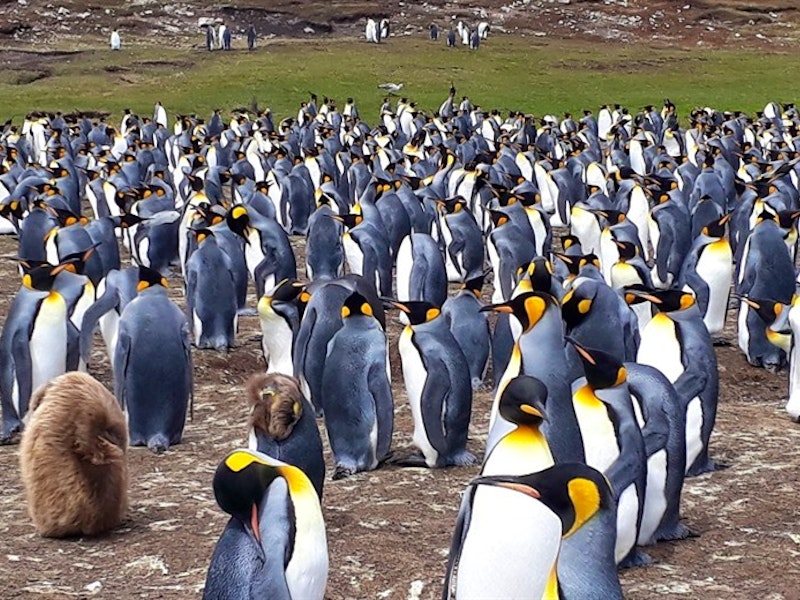 10 - Flying over the Falklands!
The light aircraft flights I took whilst on my Falklands adventure were much more than just a mode of transport – they were a big part of the experience. I was lucky enough to be able to sit up front with the pilot on one of my FIGAS journeys and the views were sublime. When I heard that the local flights are used in a similar way to how we use buses in London I didn't quite believe it, but it is true. Locals and tourists alike use the five Britten-Norman BN-2B Islander planes just as we use buses – a means to an end to get to their final destination. I, on the other hand, was like a giddy child on each journey I went on, especially on the day when I sat upfront as the aircraft made its various stops; the views out of the window overlooking each island really are breath-taking.
Overall my trip to the Falkland Islands was such a unique experience. Nothing quite prepares you for the abundance of wildlife and the playful, inquisitive nature of the resident penguins! The long journey to Mount Pleasant is made worth it by the friendly islanders; restaurant-style meals in many lodges; and, of course, the amazing land and sea creatures you encounter along the way – it really was one of the best trips I've ever taken and I highly recommend it! 
Burning with questions after reading about
Seema's
Falklands adventure? Head over to our
Falkland Island FAQ
for all the essential travel knowledge now!