Following her recent trip to the region, our Travel Specialist Seema Kapur has put together this top list of frequently asked questions for visitors. Her answers are designed to assist you in your Falkland Islands travel knowledge; but for further insight, as well as a tailormade quote, give Seema and our team a call today.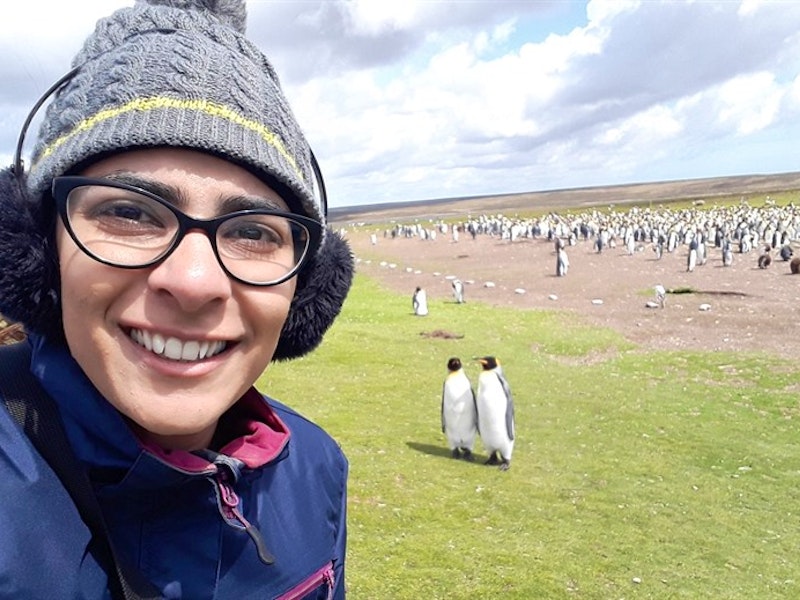 Why should you visit the Falkland Islands?
With an abundance of wildlife, a range of botany and not to mention the military history – the Falkland Islands has a range of options to see and do on your visit. All of our trips are bespoke/tailormade so we can create an itinerary to suit your needs – including length of stay and personal interests (hiking/wildlife spotting/photography/military history/general interest).
In addition, the Falklands is an ideal add-on to a mainland South America holiday (such as Patagonia) or perhaps as a pre or post Antarctic and/or South Georgia cruise tour destination.
When should you visit?
The main season runs from October to April with November to February being prime wildlife-viewing time. Depending on what your main focus is we can let you know what stage each species is at in its breeding cycle to help you decide on the timing of your visit.
The Islands have a very temperate oceanic climate. The winters range in temperature from 1°C – 10°C, with very little snow. The summers tend to be windy lowering the temperature which can range from 8°C – 20°C. Rainfall is 26 inches (650mm) with the summers being very dry.
How to get there
The Falkland Islands are serviced by the RAF Airbridge, departing RAF Brize Norton, UK, every Sunday and Wednesday evenings. This RAF flight arrives at Mount Pleasant Airport approximately 18 hours later on the following Monday and Thursday afternoons respectively.
There is also a LATAM Airlines connection from Santiago, which may also be joined at Punta Arenas every Saturday.
How to get around the Falkland Islands
The Falkland Islands Government Air Service (FIGAS) transports islanders, visitors and freight around the archipelago. The fleet consists of five Britten-Norman BN-2B Islander aircraft. Flights are available seven days a week in summer months, five days in winter "on demand" i.e. passengers simply inform FIGAS when and where they wish to fly.
What is the internal luggage allowance?
Including hand luggage, it's 20kgs. You may take as many pieces of luggage as you like, and there is no limit on the number of bags, only the weight. Excess luggage can be paid for at a rate of GBP1.40 per kilo, per flight sector.
How long should you go for?
The shortest time you can visit the islands on a land option is 7 nights (based on the LATAM flights) – whilst this gives you a taster of what you can see and do there, I would strongly recommend staying at least 14 nights, with those of you who have more time on their hands opting for 21 nights.
To find out more and book your own expedition to the Falkland Islands, contact our team on 020 7666 1235.