Located in South Africa's Eastern Cape, Kariega Game Reserve stretches across 10,000 hectares of wilderness along the famous Garden Route.
The reserve features two beautiful rivers, offering a unique experience to view wildlife from the water and attracts a myriad of birdlife to the water's edge.
Kariega is a family-owned and operated Big 5 safari reserve is malaria free and offers you the opportunity of close up viewing of lion, leopard, rhino, elephant and buffalo as well as a multitude of other South Africa's wildlife.
The reserve offers 5 distinctive camps and lodges, Settlers Drift is a five star luxury tented lodge, set in a remote section of the Kariega wilderness. The 9 opulent tented suites offer complete privacy, beautifully appointed bedroom and living space, full bathroom with indoor & outdoor and shower and a private viewing deck.
The lodge features an open lounge, infinity edge pool with views across the plains, modern restaurant and bar and wine cellar were private romantic dinners can be arranged.
Kariega Game Reserve is a ten minute drive or pleasant boat ride cruise to the sunny coastal village of Kenton-on-Sea and about a 80 minute drive east of Port Elizabeth.
With two rivers meandering through the reserve, this makes it possible for you to enjoy canoeing and fishing while at the reserve.
All of our holidays are tailor-made to your requirements by an expert Travel Specialist
Responsible Travel
Kariega Game Reserve is involved in a number of conservation and community projects. You as a guest of Kariega can get involved with the Conservation Volunteer Programme where you will get hands on experience in conservation management. This could include elephant inmpact monitoring, rhino monitoring, introducing more game to the reserve or community development projects. 
Kariega Game Reserve is the largest employer in the Neton-on-Sea area. Kariega Foundation is a project which is committed to responsible tourism, social upliftment and sustainable use of reqourses. A non profit organisation, Kariega Foundation helps impoverished areas in the Kariega area and particularly assists with supplying volunteers to teach English, Maths, Biology and Science at  the nearby rural schools, particularly Farmerfield School. On-going projects at Farmerfield School include installing flush toilets, electiricty to the classrooms, a computer, a jungle gym for the little ones, educational materials and long life food supplies.
The reserve is dedicated to sustainable wildlife management and conservation and includes their 'Save The Rhino Fund' which provides the tools for the best anti-poaching and protection of the endangered rhino population. The Leopard Project has been set up to track the rare Cape Leopard in the Kariega area. Guests of Kariega can help with donations to the non-profit Kariega Foundation by cash or by adding an amount to your account when checking out.
On Safari
Kariega Game Reserve stretches across 10,000 hectares and is home of Africa's Big 5, lion, leopard, elephant, rhino and buffalo. Twice daily safari drives and river cruises are included, offering you close-up encounters with Africa's wildlife from the comfort of open game-drive vehicles. Kariega Game Reserve offers plentiful wildlife including hippo, hyena, giraffe, zebra, wildebeest, kudu, waterbuck and a myriad of bird species including crowned eagles and fish eagles.
Open game-drive vehicles at Settlers Drift accommodate a maximum of six guests allowing everyone an uninterrupted 'window' view. Safari's include a river cruise on the Kariega Queen from where you can enjoy the unique experience of vieing wildlife from the river, this is a particularly rewarding time for birdwatching. Guided safari walks can also be arranged.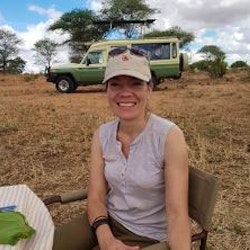 Janine Bullen
All of our holidays are tailor-made to your requirements by an expert Travel Specialist
Why Choose Us?
Passionate travel experts
We've been leading wildlife travel since our first South Africa tours over 25 years ago

Our Travel Specialists have lived in their specialist area for years

We work with local guides to immerse you deeper in our diverse range of experiences
Personal & tailor-made
You'll speak to your own expert who'll share their first-hand knowledge

We'll make your itinerary seamless with 24/7 emergency contact available

Your Travel Specialist will listen to ensure you have the best chance of seeing the wildlife you love
Responsible by nature
We take care to actively contribute to the conservation of environments we visit

For select countries, we make a charitable donation on your behalf when you make your booking

We've partnered with conservation experts and NGOs to curate responsible tours
For the latest travel advice from the Foreign, Commonwealth and Development Office check www.gov.uk/travelaware