Mandrare River Camp stands in the shade of tamarind trees on the bank of the Mandrare River, about 110km northwest of Fort Dauphin.
What better way to start your exploration of Madagascar day than by watching the pink glow of dawn illuminate the river from your bed?
By the time you get up, it's to the sounds of Antandroy people singing as they walk along the riverbed to wash and fetch water.
Accommodation
This is Madagascar's first luxury tented camp. Seven large tented rooms each have a comfortable, netted, four-poster bed, attractive handmade wooden furniture, electric lighting and private en suite facilities including safari shower and BioAroma toiletries. Each has a private furnished verandah from which to watch life on the river or birds in the trees. Tents can accommodate an extra bed for a child. Silent, environmentally friendly solar panels provide the electricity. The rooms are equipped with fans.
Food
Meals are taken in the main tent and defy all expectations. You could be dreaming: this is fine food, imaginatively presented, prepared in a kitchen in the middle of a stand of gallery forest. The chef bakes fresh bread, croissants and pain au chocolate each morning; lunch is a barbecue and a variety of salads; one dinner was a delicious vegetable stack followed by succulent duck and a chocolate soufflé.
Rates include all meals and locally manufactured beverages.
Activities & Facilities
This region of Madagascar is dominated by sisal plantations so, much of the original habitat has been modified. Around the village of Ifotaka, however, there are a number of intact stands of dry gallery woodland and the remarkable 'spiny bush', which have survived because they are considered sacred.
These tracts of original habitat are inhabited by Ringtails and Verreaux' sifaka, which are not particularly skittish: hunting lemurs is fady (taboo) among the local Antandroy people. By night, you should spot Grey mouse lemurs and White-footed sportive lemurs.
In a short morning walk you can see - among other species - Crested coua and Madagascar paradise flycatchers.
Edward Tucker-Brown's highly rated camp places equal emphasis on the culture of the Antandroy. Your guide will explain the tombs you encounter in the forest, as well as the behaviour of the lemurs.
The local dancers who come to camp are truly breathtaking - they attract children from the tiny hamlets nearer the camp and provide engaging entertainment for everyone, including the local people.
Even if you only want to explore intact spiny forest and healthy southern gallery forest from a comfortable base, you can observe the traditional way of life from roads that often see no more than one vehicle in a fortnight.
The camp also features a welcome swimming pool.
Commmunity
A donation to local community and environmental projects is made for every guest of the camp, and the camp itself provides jobs for the inhabitants of nearby villages. 
Access
Access from Fort Dauphin airport is by recently repaired road from Fort Dauphin- a journey taking approximately 3 and a half hours. (July 2023 update; roadworks currently under way).
All of our holidays are tailor-made to your requirements by an expert Travel Specialist
Tours staying at this accommodation
Itinerary Highlights
Mandrare's Ringtails, Sifakas, Baobabs and Spiny bush

Madagascar's greatest lowland rainforest at Masoala

Anjajavy's extensive tropical deciduous forest with its Baobabs and rare wildlife

Top notch hospitality in remote, secluded lodges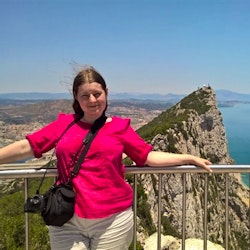 Helen Kennedy
All of our holidays are tailor-made to your requirements by an expert Travel Specialist
Why Choose Us?
Passionate travel experts
We've been leading wildlife travel since our first South Africa tours over 25 years ago

Our Travel Specialists have lived in their specialist area for years

We work with local guides to immerse you deeper in our diverse range of experiences
Personal & tailor-made
You'll speak to your own expert who'll share their first-hand knowledge

We'll make your itinerary seamless with 24/7 emergency contact available

Your Travel Specialist will listen to ensure you have the best chance of seeing the wildlife you love
Responsible by nature
We take care to actively contribute to the conservation of environments we visit

For select countries, we make a charitable donation on your behalf when you make your booking

We've partnered with conservation experts and NGOs to curate responsible tours
For the latest travel advice from the Foreign, Commonwealth and Development Office check www.gov.uk/travelaware