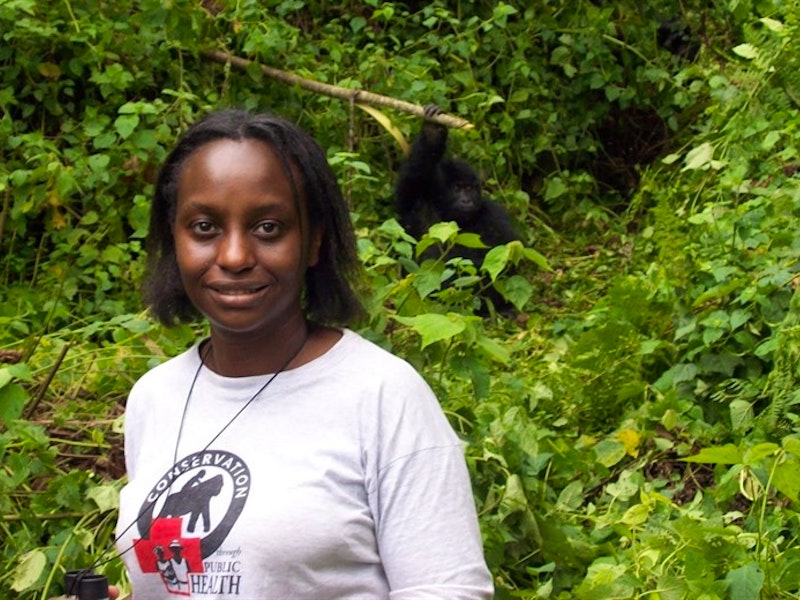 An interview with: Dr. Gladys Kalema-Zikusoka, Founder and CEO of Conservation Through Public Health
Background
Your journey has been extraordinary. Can you tell us about your training; your studies to be a vet; working with UWA and also, about your experience in diverse protected areas including Pian Upe Wildlife Reserve, Queen Elizabeth National Park and Virunga National Park?
My conservation journey has not taken a traditional path. At 12, I decided I wanted to become a veterinary doctor. At 18, I got the opportunity to revive the wildlife club in my school. I was so proud when we won the Miss Wildlife Clubs competition. This was a turning point in my life where I decided that I wanted to become a veterinarian who also works with wildlife.
I got a chance to do my veterinary degree at the Royal Veterinary College, University of London. I carefully selected opportunities to work with wild animals. I decided to become a full-time wildlife veterinarian, after graduating in 1995.
In 1996 I became the first veterinarian for the Uganda National Parks, which later became the Uganda Wildlife Authority, where they felt it was necessary to have a veterinarian because gorilla tourism had begun, and they were concerned about tourists making gorillas sick.
In 2000, I did a Zoological Medicine Residency and Masters in Specialized Veterinary Medicine at North Carolina State University and North Carolina Zoological Park, who then gave us the first grant to set up Conservation Through Public Health (CTPH). My Masters research focused on Tuberculosis (TB) at the human/wildlife/livestock interface at Bwindi where I investigated TB in people going close to gorillas.
When we founded CTPH in 2003, after leading teams that investigated disease at the human/wildlife/livestock interface, we wanted to develop a model that can prevent and control cross species disease transmission in all habitats and started with Bwindi Impenetrable National Park, home to the critically endangered mountain gorillas. We adapted this model to Virunga National Park, Pian Upe Wildlife Reserve and Queen Elizabeth National Park. We also decided to set up CTPH programs to provide additional benefits to the local community beyond tourism.
I am glad to have also had the opportunity to influence policy in Uganda when serving on the Boards of Uganda Wildlife Authority and Uganda Wildlife Education Centre, as Board Chairperson of Wildlife Clubs of Uganda and now currently serving on the Board of Bwindi and Mgahinga Conservation Trust. I am also a trustee of The Gorilla Organization based in the UK.
Animal Health
The human -wildlife- livestock interfaces in and around Bwindi make for a fascinating topic. What first ignited your interest in this interface?
In 1996, I led a team that investigated the first scabies outbreak in the mountain gorillas of Bwindi Impenetrable National Park. The disease was traced back to the local communities and likely happened when gorillas came into contact with unwashed clothes. A few years later, another scabies outbreak occurred, fortunately there were no deaths because the infection was recognized early and the gorillas treated quickly. These cases sparked my interest in the human-wildlife-livestock interfaces. With mountain gorillas being classified critically endangered at the time, I founded Conservation Through Public Health (CTPH) with other concerned Ugandans, initially to address the threat of transmission of zoonotic diseases between humans, wildlife and livestock. We have since expanded and currently implement three integrated programs that not only address threats to the gorillas as a species but their habitat as well, these include wildlife health and conservation, community health and alternative livelihoods.
Given the challenging terrain, can you enlighten us as to how the CTPH conducts regular health monitoring of the habituated mountain gorilla groups in Bwindi as part of your gorilla research programme?
We train rangers and community volunteers to identify clinical signs of illness or disease and report any concerns. We also train them in non-invasive collection of fecal samples from gorilla night nests which are analysed which enables rapid identification of any diseases, illnesses or infections in the gorillas or from the people and livestock they share their fragile habitat with.
The Future
Mountain gorilla been moved from Critically Endangered to Endangered and the population trend is increasing. Given that 100% of the mountain gorilla population is within protected areas, what is your take on their future?
We are very proud of our contributions to the growth in gorilla numbers to just over 1000. This has made us more determined to continue ensuring their survival, confident in the knowledge that our efforts are bearing fruits. Whilst population growth and habitat encroachment are two major threats to mountain gorillas, we are confident that our model which supports improved health and wellbeing of community members living in close proximity to the gorillas, building an understanding and respect for the gorillas, engaging community members in their conservation and, importantly, ensuring community members benefit from their continued survival will help to ensure that growth can continue to be balanced and that people and gorillas can live in harmony.
In your view, how can tourism professionals and organisations both nationally and internationally, make a more focused contribution to the work of CTPH and to conservation in Uganda as a whole?
I think we are seeing a shift towards more responsible tourism and in the future would like to work with the government to implement a 'conservation tariff' whereby visitor fees include a donation towards conservation interventions. We really encourage visitors to Bwindi to come and see what we are doing. We would love for tourism providers to include our activities in their schedules for visitors too and are grateful for the tour companies that have started to promote our work. Tourists can also visit our Gorilla Conservation Café in Entebbe – proceeds of which go towards supporting our programs.
With CTPH now firmly established, what are your future plans?
Whilst mountain gorillas still need us, we plan to be here working towards their continued survival! We plan to solidify our model to be able to package and replicate it across other protected areas.
Get Involved
Rainbow Tours is exceptionally proud to be running two specialist small group tours in partnership with Dr. Gladys Kalema-Zikusoka. These exclusive, once-in-a-lifetime tours will give travellers the opportunity to track gorillas with Dr Gladys, one of the world's leading authorities on Mountain Gorillas, as well as see a diverse range of other wildlife and learn more about conservation.
Read more about our Uganda, Rwanda & Kenya Wildlife & Conservation tour in January 2021.
This interview was conducted in October 2019 for an article by Rainbow Tours. The full interview is available to read here.